William Wayne Nichols
Friday, May 10, 2013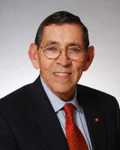 MARKED TREE - William Wayne Nichols, 76, of Marked Tree passed away Sunday, May 5, 2013.
Wayne Nichols was born April 26, 1937, at Pocahontas, Tenn., to J.S. and Evie Nichols. He was preceded in death by his parents; his brothers, Hershel, Herbert, Delbert and L.W.; and his sister, Eva Steele.
Wayne was employed by E. Ritter and Co. for 43 years. He served as a representative in the Arkansas Legislature from 1999-2006. He was a commissioner with Arkansas Rural Services, a Poinsett County election commissioner and the current mayor of Marked Tree. He was a member of the American Legion and active in the Marked Tree Church of God.
He is survived by his wife of 53 years, Gail Cline Nichols; niece-daughter, Hadley Cline Stack; a granddaughter, Parker Stack; niece and caregiver, Cindy Tucker; sister-in-law, Katherine Cline; sister and brothers-in-law, Kay and Dean Tucker, Gloria and Harry East, Connie Cline and Harry Cline; and nieces, nephews, cousins and friends.
The family appreciates Dr. Lee Cranfill and staff, physicians and nurses at Clopton Clinic and St. Bernards Medical Center and Hospice.
Visitation was May 6 at Marked Tree Church of God.
Funeral services were Tuesday, May 7, at Marked Tree Church of God with Revs. Patrick Tucker and David Fields officiating. Burial followed in Nichols Cemetery with Murphy Funeral Home in charge of arrangements.
Pallbearers were Matt Gray, Michael East, Zack Tucker, Matt Wright, Chris Nichols and Mike Mular.
Memorials may be made to Nichols Cemetery Fund, 402 Poinsett St., Marked Tree 72365; or Marked Tree Church of God, 114 Allyn St., Marked Tree 72365.