Marked Tree mayor dies at 76
Friday, May 10, 2013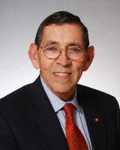 Marked Tree residents are grieving the loss of their mayor. Wayne Nichols, a leader who served his state and community in numerous roles, died Sunday, May 5, at age 76.
Born in Pocahontas, Tenn., in 1937, Nichols worked for E. Ritter and Company 43 years, was a representative in the Arkansas Legislature from 1999 to 2006, served as a Marked Tree alderman, was a commissioner with Arkansas Rural Services, and a Poinsett County election commissioner. He was a member of the American Legion, active in the Marked Tree Church of God, and was serving his first term as mayor of Marked Tree.
Friends and colleagues remembered Nichols as a dedicated public servant and a man of great integrity.
Ritter Arnold of E. Ritter and Co. said Nichols was available 24 hours a day when he worked there, whether it was for business matters or to take an employee to the hospital. "He made many a run at two in the morning to the hospital," Arnold said. "Whatever needed done, if he was asked, he would jump in there. He was a very loyal and dedicated employee."
Arnold said his first significant interaction with Nichols was 35-40 years ago when he and his mother's car was stuck in a ditch and Nichols helped pull them out.
"When he was running in the legislature, he always felt his job was not to pass bills but to make sure bad legislation did not pass," Arnold said.
Nichols also helped with the creation of the state Agriculture Department. "I would call Wayne the Father of the Department of Agriculture in Arkansas. He took a lot of heat for that. He got it done against overwhelming odds. He thought it was the right thing for the state, and he got it done," Arnold said.
Mary Ann Arnold remembered coming to Nichols often to ask his opinion because she, and many others, respected him and respected his opinion. "If there was something to be accomplished in the city, Wayne tried his dead level best to get it accomplished," she said. "Wayne wasn't out for Wayne. He was out for the responsibility he carried. He was one in a million. You always knew where you stood with Wayne. He wouldn't tell you one thing and say something else behind your back."
Arnold called his passing a great loss for the community. "It's tragic not only for his family but for the town. He was beginning to get us back on the right road to grow," she said.
Tyronza Mayor Marion Bearden worked with Nichols at E. Ritter and Co. when she started there in 1980. She also attended the same church with him. "He cared about his community and state," Bearden said. "He would stand up for what he thought was right. When he was State Representative, he was never too busy to talk to his constituents. He was a dear friend."
Pam Wright and Duvee Brian worked with Nichols at city hall. They remembered him as one of the fairest and honest people they had known.
"He was a pleasure to work for," Wright said. Wright got to know Nichols soon after moving to Marked Tree in 1975. "I think everyone in town knows him. He's going to be missed. He was such a part of the community. I don't think I've ever with a mayor who worked with our schools as closely as he did."
Both Wright and Brian described Nichols as a man of integrity. "If he sent a fax, he paid for it," Brian said. Brian knew Nichols through church before she worked with him at city hall.
"A lot of people didn't know, but he did have a sense of humor," Brian said. "He never made you feel like you were bothering him. And I think he was like that when he was State Representative. Just like when he worked for Ritter, he didn't give 100%, he gave 150%. The funniest thing was seeing him out there on a tractor in that white shirt. He was dressed to a T doing manual labor. If he was going to do something, it was going to get done, and it was going to get done correct. He had to have loved Marked Tree."
"There are not a lot of folks like Wayne left," Ritter Arnold said.