NEAT usage growing in Poinsett County
Monday, May 13, 2013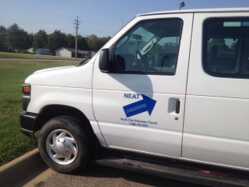 The North East Arkansas Transit system has shown exceptional improvement after eight months in operation. The program is aimed at providing public transportation in rural areas in six counties including Poinsett, Craighead, Cross, St. Francis, Crittenden, and Mississippi County.
"We have been very pleased with the program, and it's really beginning to serve a lot of people," said Kera Crafton, chief operating officer for Crowley's Ridge Development Council/North East Arkansas Transit.
The NEAT system began operating on Oct. 1. During the month of October, Poinsett County had no riders use the service. However, the number began to continually grow. During the month of March, the system serviced 122 people in Poinsett County.
"We offer our services to everyone at a low cost," said Crafton.
There are no income or age guidelines to use the transportation services. Crafton added they have seen a wide range of age groups use the service.
Some examples of transportation opportunities that NEAT can be used for include shopping, medical, socialization, employment, and education. Crafton said there are many more.
Transportation services are from 7 a.m. to 5 p.m., Monday through Friday. Round trips originating in Poinsett County cities range from $14 to $30 depending on the destination. Trips with starting and ending points in the same town are $2 one-way.The system can be used for multiple stops in the same city, as well.
"We hope to see even more begin to use the service," said Crafton. "As socialization continues to rise, the elderly want to remain more independent and self-sufficient, and we help with that."
Crafton added that they plan to continue to grow and expand. Since their opening,they have recently began providing services in two more counties including Jackson and Woodruff.
Customers should call 24 hours in advance so that NEAT can schedule drivers or make specific accommodations for passengers if necessary.
For more information or fare schedules, call 1-866-336-3691 or 870-932-0836.
"We want everyone to know that these services are out there for anyone to utilize," said Crafton.