Delta Regional Authority delivers $200,000 investment toward Trumann adult ed center
Saturday, May 11, 2013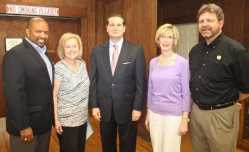 A nearly two-year long project combining local, state, and federal resources is nearing reality for the City of Trumann.
Delta Regional Authority Co-Chairman Chris Masingill joined local leaders at the Community House on May 1 to announce the DRA is proceeding with an investment totaling more than $200,000 for an adult education center for the community.
The investment, funded in part through the Delta Regional Authority's States' Economic Development Assistance Program, will help build a 5,000 square foot center on Melton Avenue near the city's police station. The center will feature learning spaces that can also be used for business training, offering the city a tool to support its existing businesses and attract new investments into the community. The facility will also offer workforce training and adult education through a partnership with Arkansas State University-Newport.
"Access to this educational opportunity for both adults and the business community in Trumann, Poinsett County, and East Arkansas will lift up educational standards, provide additional tools for small businesses to grow, and create jobs across the region," Masingill said. "The City of Trumann, the Trumann Chamber of Commerce, local private donors, educational institutions, state and federal legislators, and everyone involved should be commended for the way they have come together to impact their community, county, and region in a positive way."
"The Sims/Talbot Adult Education Workforce Development Center will be a huge benefit to Trumann and the surrounding communities," said U.S. Rep. Rick Crawford, R-Ark. "The center will provide much needed adult education classes and workforce training for local industries. Not only will those who attend classes at the new center benefit, but local businesses and industries will benefit from having a more skilled workforce. The Sims, Talbot, and Swinford families should be commended for their donation that made the center possible. I am excited to work with Mayor Sheila Walters, the Trumann Chamber of Commerce, the Delta Regional Authority, and the many other local, state, and regional entities involved to see the center completed."
"DRA's willingness to support our community's education and workforce development project will impact generations, and the results will secure a promising future for our citizens," said Trumann Mayor Sheila Walters.
Representatives of the Trumann Chamber of Commerce also recognized the importance of the investment for the community.
"The Trumann Chamber of Commerce values learning, education, and training as one of life's highest assets," said Dr. Neal Vickers, president of the chamber. "We believe it is pivotal to success in the workplace and in life. Delta Regional Authority has shown support of our beliefs in aligning with us to create the Sims/Talbot Adult Education and Workforce Development Center. We are very appreciative of their generosity in providing funding for the project."
"The City of Trumann recognizes that education is critical not only to economic development, but also to community development," said Barbara Lewallen, economic developer with the Chamber. "Educated citizens tend to lead healthier lives and to make better life choices. We in Trumann are grateful to DRA Co-Chair Chris Masingill for supporting health and education projects as part of economic development, and in particular for supporting Trumann's proposed Sims/Talbot Adult Education Workforce Development Center."
In addition to the DRA's investment, additional funding for the project has been received from the Arkansas Economic Development Commission and local families who have donated construction funds and land to the project. The East Arkansas Planning and Development District assisted the city and Chamber in making applications to DRA and AEDC for the investments.
The Delta Regional Authority is a federal-state partnership that is congressionally mandated to help create jobs, build communities, and improve lives in the 252 counties and parishes of the Delta. The investments come through the DRA's States Economic Development Assistance Program. With 45 Local Development Districts as front-line project managers, these investments by the Delta Regional Authority support job creation and community development projects. In the past ten project cycles, the Authority created or retained nearly 17,000 jobs. DRA leveraged $2.2 billion in other public and private investment with DRA projects, trained almost 4,000 for a 21st century workforce, and helped more than 25,000 families gain access to clean water and sewer service.
EAPDD is a non-profit, regional planning and development agency, serving a 12-county area of East Arkansas. The District's purpose is to promote and support the economic development of the region. It does this by providing technical assistance to the cities, counties, businesses, and other development organizations in the area, and by networking extensively with state and federal resource agencies.