EPC students come together to clean Lepanto
Sunday, May 12, 2013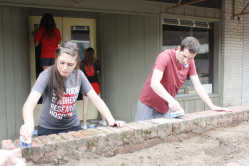 The Men of EPC and Ladies of EPC came together on Wednesday and Thursday, May 1 and 2, to help their community by cleaning up Main Street in Lepanto. About 60 students painted, scrubbed, and swept the buildings and sidewalks.
Lepanto Mayor Steve Jernigan described it as one of the biggest service projects he has seen in Lepanto in a long time.
"It's a really positive thing for everyone. It makes the community feel good and ti makes the people feel good," said Jernigan. "It shows community pride."
The Men of EPC and Ladies of EPC are groups of students from grades 9 through 12 who are selected based on grades and character evaluations. This is the second year for the Men of EPC to be active, and the first for the Ladies.
Jennifer Fithen, sponsor for the Men of EPC, said it began when the students wanted to start giving back to the community. They began attending City Council meetings to learn about what the citizens of Lepanto wanted.
"They learned that a lot of citizens wanted to see the old buildings around town cleaned up," said Fithen.
Shortly after finding out what the community wanted, the Men of EPC and Ladies of EPC began fundraising for the cleanup. After three weeks, they had gather $2,500 to begin their project at no cost to the city or businesses.
"With this project, they are learning everyday skills and what it's like to help the community, and we still do a lot more," said Cristi McLaughlin, sponsor for the Ladies of EPC.
Both of the groups serve to help the youth in their community by mentoring them through school and social problems; however, both began with different goals in mind.
"After seeing the impact that the men had, we wanted to get started," said Anna Claire Williams, president of the Ladies of EPC. "They target more academics with young boys, while we work more on the character of young ladies."
Many of the students involved not only feel that they are helping their fellow youth, but helping themselves, as well.
"It's incredible to touch the lives of young students, and it's really helped mold me into being a better leader," said Paul Pilgrim, president of the Men of EPC. "We can all get better."