Marked Tree Gifted and Talented get involved
Tuesday, May 14, 2013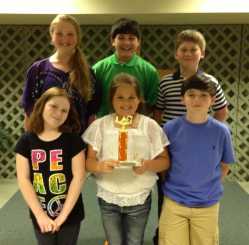 The Marked Tree School District Gifted and Talented Program has been very active this year from participating in Mock Trials to Stock Market Games. They have been involved in these competitions from an elementary to a high school level.
"These opportunities are out there for everyone. I'm just jumping on them," said John Kelly, the Marked Tree Gifted and Talented instructor. "It's what is best for the kids."
The different competitions that students participated in this school year included the Mock Trial, the Knowledge Bowl, the Lego League, Money Island, and the Stock Marked Game.
The Mock Trial was held in the Craighead County Courthouse, where high school students reenacted a negligent homicide trial that involved texting and driving. The Arkansas Bar Association hosts the event to promote the development of fundamental knowledge and critical thinking skills. Marked Tree students went before a real Arkansas judge and a jury made up of volunteer lawyers to present their case.
"We spent hours in preparation for the competition, and practiced at least three times a week," said Anna Trego, a teacher at MTHS that helped with the Mock Trial.
Kelly added that they worked hard and diligently during all of their hours practicing, even though the trial has a one-hour time limit. Marked Tree students won the trial, but they were not chosen to advance to the next round.
The Marked Tree High School G.T. program also participated in the WREG's channel 3 Knowledge Bowl. Five students from Marked Tree participated in the event. In a Jeopardy-like setting, they played against another team, answering scholarly questions. The students were featured on channel 3's morning show in early December.
"Our G.T. program has given me a lot of experiences. We are always working on something," said Jacob Lung, participant in both the Mock Trial and Knowledge Bowl. "We have a great teacher to help us get involved in as much as we can."
At both competitions, Marked Tree was one of the smallest schools to enter, as well as, the only one from the Poinsett County area.
"I really want to encourage all schools in the region to pick up these opportunities," said Kelly. "It's great for the kids, and it really gets them involved."
The elementary Gifted and Talented program has been exceptionally active in applying their critical thinking skills through competitions, as well. They recently competed in the First Division Lego League, where they engineered a robot and competed in a robotic competition.
"We did a lot of problem-solving and working together," said Caitlin McClain, sixth grade student. "I think it really helped us to work together as a team."
The elementary G.T. students have also worked with economics games like Money Island and the Stock Market Game. Kelly said Money Island is a consumer economics teaching tool in the form of an online game, and it is open to all classrooms at no cost. Students are given experiences and choices to make in those experiences, with options to save or spend their virtual money.
The Stock Market Game was very similar to Money Island, but the students were dealing with investing their money. It is a ten-week competition, where students are given $100,000 in virtual money.
"The main emphasis with this competition is to show them that there are outside influences that effect our economy," said Kelly.
The Marked Tree students placed first out of 86 teams in the Northeast region.
"We are always doing something," said Sabrina Martin, a sixth grader.
She added that they do not always come out on top in their competitions, but they are learning from their mistakes and continually improving.