Lady Indians win regional opener
Friday, May 10, 2013
The Marked Tree Lady Indians jumped out to an early lead, survived a scare late, and held on to beat Pangburn in the Class 2A North Regional softball tournament his past Monday in Tuckerman.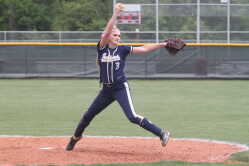 Peyton Carter struck out four batters in the top of the first as one batter reached on a dropped third strike. Kelsey Pitts doubled to start the Lady Indians bottom half of the first inning. Pitts scored as Poohnu Perry reached on an error for a 1-0 Marked Tree lead. Perry scored a short time later on another error to make it 2-0 after one inning of play. Pangburn's leadoff batter singled and went to second on an error before Carter struck out the next three in the top of the second. The Lady Indians tacked on three more runs to go up 5-0 in the bottom half. Abby Beck drew a one-out walk and went to second on a Poohnu Perry single. Carter helped her own cause by ripping a double to score Beck and Perry. Shelbi Knight singled to score Carter.
After a scoreless third inning, the Lady Indians padded their lead with two more runs in the bottom half of the fourth. Carter and Knight had back to back two-out singles before Holly Smith drove in Carter and pinch runner Madison Gilbert with a double to push the Marked Tree lead to 7-0.
The Lady Indians made it 8-0 in the fifth as Pangburn's new pitcher had control issues and walked the bases loaded before walking Knight that allowed Beck to score. Smith popped out with the bases loaded to end the inning.
Pangburn took advantage of two Marked Tree errors and a couple base hits to plate four runs and make it an 8-4 game going into the bottom of the sixth. That would be as close as Pangburn got as Carter set the side down in order in the top of the seventh as Marked Tree won 8-4.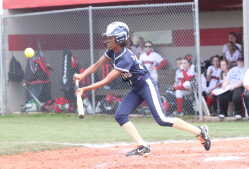 Carter shined at the plate and in the circle for the Lady Indians. Carter had two hits, two runs scored and two RBIs at the plate. She pitched all seven innings giving up four runs on five this while walking none and striking out 14 batters.
Knight had two hits and two RBIs, Smith had a hit and two RBIs and Pitts had two hits and a run scored. Poohnu Perry and Beck both had two runs scored.
The Lady Indians came back Tuesday to face host Tuckerman in one semi-final contest. The Lady Bulldogs squeezed out a 3-2 victory.
Knight drove in both runs for the Lady Indians.
Carter took the loss giving up three runs on six hits while walking one and striking out 10.
Marked Tree came back and took the third place game as they downed Salem 8-5.
Carter had three hits and two RBIs, Smith had two hits and a RBI, Knight a had a hit and a RBI and Beck had two hits.
Carter got the win giving up five runs on six hits. She walked one and struck out 13.
The Lady Indians (23-5) will open play in the Class 2A state tournament on Thursday, May 9.