St. Francis duck blinds issue goes back to court Friday
Friday, May 17, 2013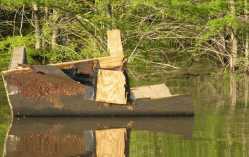 With the Arkansas Game and Fish Commission already tearing down permanent duck blinds on the St. Francis Sunken Lands Wildlife Management area, members of the St. Francis Lake Association will be back in court this Friday.
The SFLA filed lawsuits against the AFGC last year. The first suit was dismissed for improper venue then refiled in Pulaski County, where it was dismissed because the SFLA did not own the blinds. Nineteen individuals have now filed a class action lawsuit against AGFC. During an informational meeting Tuesday, concerned hunters gathered to hear an update on the lawsuit. The group's attorney, David Carruth, said he wants the judge to rule on issuing a temporary restraining order to prevent the removal of more duck blinds. Then the judge will have to rule on the class action status of the lawsuit.
Carruth said the lawsuit hinges on whether or not Amendment 88 trumps Amendment 35 in the Arkansas Constitution. Amendment 35 gave the AGFC autonomy from the state legislature. Amendment 88 protects traditional methods of hunting. The SFLA argue that hunting from permanent duck blinds on the St. Francis River is a long-standing tradition, and the AGFC's removal of the blinds violates Amendment 88. "If the court says Amendment 35 trumps traditional hunting methods, then Amendment 88 doesn't mean anything," Carruth said. "If we can convince the court this is a traditional method of taking and that it's Constitutionally protected, we will ask that the blinds be replaced at the Game and Fish Commission's expense."
Many hunters at the meeting also voiced concerns that AGFC's methods of removing the blinds could violate the Clean Water Act and Clean Air Act. Several hunters said blinds had been taken apart and the refuse was tossed in the river. Several more blinds were burned, including a handicap-accessible blind built in 1982, though Neal Vickers said AGFC had obtained a burn permit from Arkansas Department of Environmental Quality. Others voiced concerns about the effect such practices could have on endangered mussels in the area. The SFLA has posted numerous photos of the blind destruction on their website www.sflake.org.
Carruth said part of what the case is about involves what procedures state and federal agencies have to follow in doing their work. "The hope is that they'll listen to people at a public hearing, but agencies have learned they don't have to listen. They just have to have a public hearing," Carruth said.