Bill Stanley honored as citizen of the year
Sunday, May 19, 2013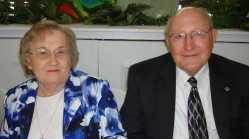 On Saturday, May 4, Bill Stanley was named Citizen of the Year at a luncheon sponsored by the Marked Tree Historical Society as a fundraiser for Marked Tree's museum and library. A large turnout of friends and family welcomed the surprised honoree and his wife, Mary, in the fellowship hall of the First United Methodist Church.
Welcomed by the emcee, Marolyn Robbins-Guarr, the group was led in prayer by Rev. Ron Williams, after which they enjoyed a lunch prepared by the Methodist Chicks and served by members and friends of the Historical Society.
Amid much joy and laughter, interspersed with moments of sentiment and solemnity, the day's speakers regaled listeners with information and stories from Bill Stanley's life.
His son-in-law, Chris Nichols, humorously revealed Mr. Stanley's protective ways by telling stories about his own courtship of the Stanleys' daughter, Amanda. Drew Price followed with a poem of tribute, "Character and Reputation," and with the reading of the Masonic poem, "The Master Builder."
Keith Steele spoke of his longtime friendship (and of some mis-timed fishing and frogging trips), and of his respect for him, elaborating with examples of Bill's quiet ways of helping others. Betty Bradford and Pat Steele joined in telling about Bill's involvement with the children's organization, Noah's Art, which involves building or making art projects to benefit both the children and the FUMC, several of which were on display in the fellowship hall. One item was a tricky wooden wallet and a dollar bill--but somehow, Betty turned the trick on Bill! Les Bradford followed by reading a letter from Sonny Tiger, beneficiary of a recent community fundraiser put together by men from different churches who are also members of Bill's Bible study. The final tribute was the Mary Smith's reading of the document (signed by Marked Tree's late mayor, Wayne Nichols), proclaiming May 4, 2013 as Bill Stanley Day.
The program ended with music by James Patrick Dailey and a time for individual comments and visitation.
Born March 30, 1934, in Russellville, Arkansas, Bill Stanley has had a varied life. Some of the highlights are that he: received an Associate of Science degree in agriculture; was commissioned 2nd Lieutenant in the National guard, Commanded the 875th Battalion, retiring as a Colonel; served in the Berlin Crisis; taught agriculture at Portland; served as Assistant Director at Petit Jean VoTech and as Director at Delta Vocational Technical School; is a member of Rotary Clubs International and Elm Street Masonic Lodge; works with Noah's Art Children's Program; and is Lay Leader in the First United Methodist Church.