Fletcher transforms wheat field into garden
Wednesday, May 29, 2013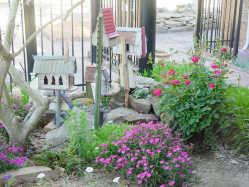 Over the last 26 years, Quenton Fletcher of Trumann has spent numerous hours perfecting his beautiful yard with his own landscaping and gardening.
"I like to think of myself as a tree hugger," he said.
Fletcher began gardening at an early age, while growing up on a farm. His work involved repairing furniture for most of his life. After retiring, he began devoting eight-hour work days to his true passion of gardening. Since then, he has grown hundreds of flowers and several unique trees.
Fletcher said many of his flowers, including several different lilies, have been given to him by friends from across the country. Many of his trees have the same history.
The year after 9/11, Fletcher recalls touring the Magnificent Mile with his wife in Chicago where he found a small sprout of a tree that he chose to take home with him.
"I just picked it up and put it in my coke bottle," said Fletcher. "It traveled through the rest of our vacation and all the way home with us."
Fletcher said he has an upright yaupon tree that he has been working on since he began 26 years ago. As the tree has grown, he has trimmed the branches and forced them to grow in an abnormal way causing the tree to look oriental.
Everything in Fletcher's yard has been planted and cared for by himself. He added that he has even worked to built the structures in his yard.
"Very few people still have the skills and traits that it takes to take something that seems like trash and make it like new," said Fletcher.
He used bricks from an old schoolhouse as his pathway through his backyard to a gazebo he built. Inside the gazebo, hangs a chandelier made entirely of logs and Christmas lights. The chandelier is one of two that Fletcher has made since his retirement. All throughout his landscaping, Fletcher has rocks placed that he has picked up from various places including some from the Mineral Mines in Hot Springs to some from an Indian Reservation in New Mexico.
Fletcher welcomes anyone interested in starting their own garden or landscaping to come and view his garden at 1235 Highway 69 Blvd. in Trumann.