Cedar Park Elementary holds successful Kindergaten rodeo
Friday, May 24, 2013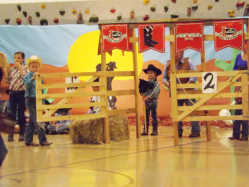 Cedar Park Elementary's third annual Kindergarten stick horse rodeo, held on May 9, has continued to grow each year with 105 students participating this year. The first year of the rodeo, 76 students participated.
P.E. Coach Cindy Martin, who runs the rodeo, said she wanted to do something fun to get the kids involved and heard about doing a stick horse rodeo at a workshop she attended in 1995. CPE held its first stick horse rodeo in 2011. "They get really excited about it," Martin said.
The rodeo consists of four events: bronc riding, barrel racing, calf roping, and bull riding--all using stick animals--and three acts during intermission. This year's intermission acts including Elvis (Scout Mincey), Reba McEntire (Jaelyn Craig), Kelly Clarkson (Carleigh Evans), and Taylor Swift (Evelyn Turner). Cobey Riddle sang "God Bless America" as Lee Greenwood.
Martin said it takes about a month to get the kids ready for the rodeo, though it took longer the first year because a covered wagon, barrels, and chutes had to be constructed.
"We try to let the kids pick the event they want to participate in," said Melanie McClain, who organizes the event. "We let them go through every event, then they get to choose what they want to do."
Champions from the previous year also get a chance to come back to participate in the rodeo. This year's returning champs were Jake Osment for barrel racing and bull riding and Brant Burrow for calf roping.
Pickup people this year included Jaecie Brown and Murphy Williams. The gate man was Gavin Greenwall. Bull fighters were Cade Hattan and Garner Henderson.
"We also want to say a big thank you to Taylor Morgan," Martin said. "He's been our announcer for the past three years, and we really appreciate him."
McClain said a DVD of the event is made for parents to purchase.
"All proceeds from ticket, CD, and DVD sales go to student incentives," Martin said. "That money comes right back to Cedar Park."