Trumann high school introduces new culture
Saturday, May 25, 2013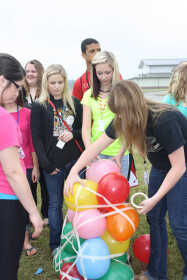 Trumann High School held a Freshman Showcase on Friday, May 17. Lasting all day, the event included introductions to faculty, a tour of the school, and team building activities. This is the first time that Trumann has held an orientation to this extent, and it's for good reason.
"These will be the very first classes of New Tech students, and this was an opportunity for them to see the groundwork," said Wanda VanDyke, THS principal.
The upcoming students in the ninth and tenth grades will be the first classes to have project-based learning fully implemented into their everyday school schedule. Not only did VanDyke want to introduce the students to a new form of learning, but a new culture.
The day began with a short ceremony including speeches from VanDyke and THS Assistant Principal Josh Shephard, and a video about Trumann's culture and vision statement.
VanDyke began by explaining to the students that THS operates as a family.
"For a good nine hours a day, our learners and facilitators live in this building," she said. "For many years education has been a process of coming, learning, taking a test, and leaving. It's been apparent that it hasn't been successful, so we want to fill in the gaps. We want our students to enjoy being here and go above and beyond what it takes to make them successful."
VanDyke explained that a large percentage of students do not lose a job because of lack of knowledge, but because of a lack of interpersonal skills.
"By calling ourselves a family, it implies that we are one and we are all in this together," she said.
To add to their new found culture, THS has began to even label their teachers and students differently. VanDyke explained that students will be referred to as learners, teachers are facilitators, and she is the director rather than the principal.
"We want to develop lifelong learners, not just students," said the director.
In addition to developing lifelong learners, VanDyke said they are forming better citizens all around by helping the students learn attributes, skills, and knowledge. In the video presented to the students, the same thought resonated through many of the student interviews: "To be a Wildcat means to be trustworthy, respectful, and responsible."
After the presentation, eighth graders went throughout the high school, learning from future tenth graders and the teachers what is expected of them in the upcoming year.
The future tenth grade classrooms have been experimenting with PBL and integrated classrooms throughout the past year with good results. This year, THS has worked on a cross-curriculum with English and Social Studies. The teachers came together to help students learn more about the time period of Great Depression.
"When we came together, the kids took a more active role. They are doing a lot of activity," said Matt Ziggler, ninth grade social studies teacher. "One of the earliest differences I saw was that they were worn out at the end. They actually worked their minds enough to be mentally exhausted."
Ziggler said he is looking forward to fully implementing PBL. He added that the teachers actually have more work after hours than they previously did.
"The kids will be learning on their own by taking a topic and being able to run with it, but from my experience with it this year, it takes a ton of planning and after hours work on the teacher's part," said Ziggler.
To be further exposed to the culture, the future ninth and tenth graders worked together for a large part of the day on team building activities including building with balloons, newspapers, and other interesting resources.