Monk preparing for chance of a lifetime
Tuesday, May 28, 2013
EPC super freshman Malik Monk has not had much of a break since the high school basketball season ended. Monk has been playing AAU ball and is preparing for the final tryouts for the USA 16U National Basketball Team. Monk will leave Tuesday, May 28 for Colorado Springs, Colorado where tryouts will begin May 30 and run through June 7. If selected to final 12-man roster, the FIBA Americas 16U Championship will be held in Maldonado, Uruguay.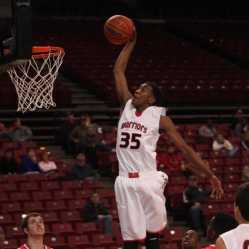 Monk is anxious and excited about the upcoming tryouts. "I'm excited about the upcoming tryouts, ready to showcase my talents and prove that I'm one of the best freshmen in the nation," Monk said.
Monk averaged 22 points, five rebounds and three assist per game during this past season. The Warriors went 25-8 and finished as the Class 2A state runner-ups.
When asked about the difference between playing high school and wearing the red, white and blue, Monk was quick to reply. "You play twice as hard cause you are playing for your country. You want to prove that you are the best," Monk replied.
Monk said he's been working hard with EPC coach Josh Hill preparing for the tryout. "We've been working on shooting and ball handling a lot. Lots of running to stay in shape." While interviewing Monk, a couple former EPC players came in to work out with Monk. One of those players was current Arkansas Razorback Ky Madden.
Hill said Monk has been busy. "I'm excited for him. We've been working a lot of the little things. He's playing AAU ball almost every weekend, sometimes playing six to nine games," Hill said.
"I've just stayed calm," was Monk's response when asked about the pressure. "Just do what you do, play your game," Monk added.
Hill's comments were about the same about the pressure. "He's handled it well. I think it's about it par for the course for what he's achieved so far."
A lot of freshmen probably could not handle all the pressure Monk has endured during the high school season and the time leading up to this tryout....but I agree with Hill, "He's not your typical freshman."