Patricia Whitsett
Tuesday, May 28, 2013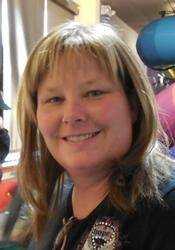 Mrs. Patricia Ann "Trisha" Whitsett, of Trumann died Sunday, May 26, 2013 at NEA Baptist Hospital in Jonesboro at the age of 46 years, 3 months and 26 days. She was born Tuesday, January 31, 1967 in Trumann to Carl Lee and Shirley Campbell Winkles. Trisha had lived most of her lifetime in the Trumann and Harrisburg area. She was a supervisor for the Arkansas State Revenue Office NEA District and a member of The Church of God of Prophecy in Marked Tree, Ark.
Patricia is survived by her husband of 30 years, Jerry Lynn Whitsett of the home; one daughter, Heather Michelle Whitsett of Bay; two sons, Joshua (Shawna) Lynn Whitsett and Ryne Lee Whitsett both of Harrisburg; two grandchildren, Bradon Whitsett and Ryland Whitsett; her parents, Carl & Shirley Winkles of Trumann; two sisters, Carolyn Qualls (Doug) of Trumann and Sherri Tribble (Randy) of Jonesboro; two brothers, Ricky Winkles (Bonnie) of Trumann and Randy Winkles (Lori) of Tucson, Ariz; and her in-laws, Jessie and Kathy Whitaker.
Funeral service will be Wednesday afternoon at 2:30 p.m. at the Church of God of Prophecy in Trumann with Pastor Randy Winkles and Bro. Larry Tribble officiating. Burial will follow in the Marked Tree Cemetery in Marked Tree, Ark. under the direction of Thompson Funeral Home in Trumann, Ark.
Pallbearers will be Chris Hatcher, Jamie Qualls, Ricky Winkles Jr., Jeremy Winkles, David Winkles and Jeff Campbell. Honorary pallbearers will be John Owens, Josh Owens, Michael Campbell, Steve Runyan and men from Bilco Manufacturing.
Visitation will be Tuesday evening from 5 p.m. to 7 p.m. at the Church of God of Prophecy, Christy Street Extended in Trumann.
An online guest book can be signed at www.thompsonfuneralhome.net.