Veterans honored during Memorial Day service
Friday, May 31, 2013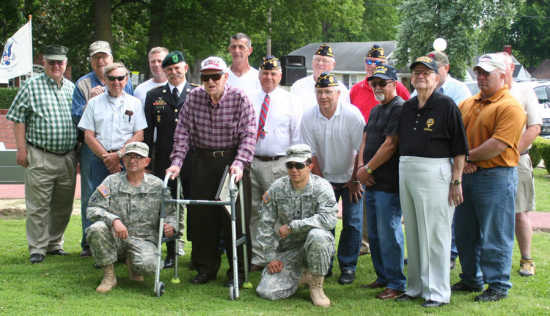 This year's Memorial Day service at Trumann's American Legion Memorial Park was especially heartwarming as local soldiers from the recently returned 1039th Engineer Company were present.
The American Legion presented certificates of appreciation to Staff Sgt. James Duboise, Specialist Kyle Barboza, and Sgt. 1st Class Greg Whitlock, all of the 1039th. The Legion also honored WWII veteran Walter Sims with a certificate of appreciation for 50 years of service in the American Legion.
Staff Sgt. Duboise, a native of Trumann, spoke during the service. Duboise said he enlisted in the Marine Corps in 1980 as a Food Service Specialist until 1983. Then he enlisted in the National Guard in 1988 and became a Supply Specialist in 1998. In 2005, he started serving full time in the National Guard. Duboise also works as THS football equipment manager and is a volunteer firefighter.
Duboise thanked everyone for their support and wanted to say thank you to his wife, Pam, and the soldiers he works with. "Today's a day to remember those who gave the ultimate sacrifice. What we have is not free. Many men gave their lives for this," Duboise said.
American Legion Post 42 District Commander Ron Taylor spoke about waiting along the overpass for the 1039th's buses to return on May 15. "My heart overflowed seeing those buses go by and all the people waiting to welcome them," Taylor said.
"This day is about sacrifice. I pray and hope some day, we will no longer have to put men and women in harm's way," Taylor said. "Just remember the people who made the ultimate sacrifice so we could be here. I'm proud of the men and women serving today."