Weiner comes together as family
Saturday, June 1, 2013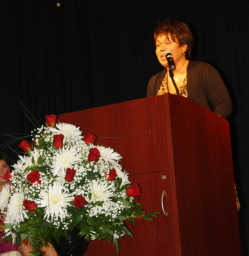 The Charlotte Wright cafeteria was full of Weiner alumni in an emotional celebration of the High School on Thursday night. Five speakers and the principal spoke about their memories of being a Cardinal and how the community of Weiner impacted their lives.
"I never dreamed I would be speaking at a celebration of Weiner High School," said Kaci Mack, a junior at WHS.
Mack comes from a long line of past valedictorians and salutatorians of WHS, and was hoping that her speech would be one at graduation rather than Thursday night's event. However, she did not dwell on the sadness of the evening.
Mack spoke about how the school had become her family. She said the faculty at Weiner care about all of the students. She also added that she felt like one of the luckiest people to have been able to be a part of the tradition and values that the school holds.
"The impact it's had inside of us won't change. They can take away our name, but they can't take away who we are," said Mack. "They can't take away our Cardinal pride."
Mack will be one of many attending Harrisburg High School for their senior year. In 2010, Weiner School District was annexed into the Harrisburg District. Although the school districts were annexed together, both Harrisburg and Weiner stood independently without consolidation. The closing of WHS was decided after Weiner School District fell short eight students of the state mandated minimum enrollment of 350 two years in a row.
Mallory Jordan, 2010 graduate and valedictorian of Weiner, spoke at the celebration ceremony and recalled some of her memories during the annexation.
"The future was unknown when I graduated, and now sadly it's decided," said Jordan.
She added that she felt lucky to be from Weiner. Now actively involved at the University of Arkansas, Jordan said involvement and leadership was taught during her years in the small town. "I accredit who I am to Weiner," she said. "They push you to be the best version of yourself."
Like Mack, Jordan said that no one can strip the students of Weiner of their roots.
"Stay loyal to this town and community, because no matter what your diploma says, your home is here and no one can take that away from you," she said.
The same family essence resonated throughout all of the speeches of the night. David Daniel, Jonesboro High School athletic director and former coach at Weiner, became very emotional when it was his time to recount his years in the town. Although he was expected to speak about athletics, he spoke mostly of the hometown feel and generosity of the Cardinals.
"It was one of the best things that ever happened in my life," said Daniel. "The tradition of Weiner athletics will live forever, and not many people get anywhere without being lifted up. This community lifted my family up."
Although the ceremony was for the school, all of the speakers said something about the community's closeness with one another. Weiner High School Principal Pam Hogue said that the event was a celebration of WHS as a people, not as a school.
"You can't separate the community and the school. They go hand in hand," said Charlotte Wright, WHS alumni and former employee.
Esther Sweat-VanPelt, the first black female to graduate from Weiner High School in 1967, spoke about the community's "acts of kindness, not to a black man or a white man, but to a neighbor" in all of her family's years at Weiner.
Hogue ended the event with a few sentimental words and a video of students and faculty expressing their thoughts of Weiner. Before leaving, the cafeteria full of Weiner Alumni and community sang the Alma Mater for the last time all together.