Williams shares heroic story with Lion's Club
Tuesday, June 4, 2013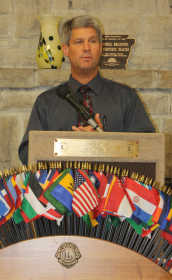 Freddy Williams, a Detective Sgt. for the Criminal Investigation Division of the Marion Police Department, spoke to the Lion's Club last week with an interesting and heroic story.
On Jan. 30, 2003, Williams, 36 at the time, sustained a gunshot wound to his face, right above his left cheekbone, after a routine traffic stop.
"I think it's good for everyone to understand what we do as law enforcement officers. Officers never know what they are going to get into that day," said Williams.
After four years in the Navy and receiving an electronics degree, Williams decided to do what he has always wanted to do--be in law enforcement. He said when he was 16, he had a baseball coach inspire him to reach out and help others. This began his desire to be a part of the force. He told the Lion's Club that he has been married for 25 years, with two children.
Williams has been an officer for about 14 years, all served with the Marion Police Department. He has been with the Criminal Investigation Division for 10 years.
Before becoming a part of the CID, Williams served as a patrol officer for three years in the department and experienced something an officer never wants to face--a fight for his life.
Parked on Interstate 55, Jan. 30 began as a normal workday for Williams. While pointing his radar speed gun to passing cars, Williams spotted a Pontiac Bonneville going 76 mph in a 65 mph zone. After realizing the car was also lacking tags, he made the decision to pursue the car.
"With them going 76 in a 65, I was already a little behind, but then I began to notice them weave in and out of traffic in an effort to lose me," said Williams.
He added the Bonneville eventually pulled over and he called in the information on the car. Williams then got out of the car and walked up to the driver's side of the vehicle. He said the driver was very cooperative when he asked for identification; however, he lacked paperwork on the car causing red flags to shoot up in Williams' mind.
"I really started to focus on the passenger as I was talking, because the passenger kept acting real funny watching every move I made," he said.
When he asked to see the passenger's identification, all that could be produced was a birth certificate. Williams added that he had never pulled someone over that offered their birth certificate, adding to his suspicion. He took the identification and went to call it in to the dispatcher.
"As I'm sitting there in my car, I noticed that they had begun to talk up a storm," he said. "As law enforcement, we don't like that. We don't like them to start coming up with a game plan."
Then, Williams made the decision to go to the rear of their car and have the driver step out and get into the back of the patrol car for a few questions. The driver complied.
While he was asking the driver questions, Williams continued to observe that the passenger was acting suspicious. Before the officer could realize what was going on, the passenger jumped into the driver's seat and took off.
"The next thing I knew, we were in full pursuit on a chase," said the officer. "You could tell that he had no regard for life. He was running cars all off the road."
The driver all of a sudden locked the car up, said Williams. After stopping his car, he saw the young man hang out of the window with a gun pointed at him.
"At about the point I got ready to duck, I actually saw this guy squint his eyes and start firing," he said. "It was like a frame by frame type deal, and I could track the bullet. Tracking a bullet coming through the windshield of a car is not a good feeling at all."
After ducking and calling in "Shots fired!", he noticed a pool of blood in his lap. He then made the dreaded call: "Officer down!"
"At that time, I'm sitting there trying to think about what I'm going to do next. All of a sudden, my boy, about 8 years old at the time, popped in my mind," said Williams. "That relaxed me enough to understand what I needed to do to get out of the car."
Williams went to the back of his car, and eventually got a shot of the suspect. Back up came with medics, and Williams spent the next year trying to recovery mentally and physically.
Williams told the Lion's Club that he speaks to the new officer recruits at the Black River Police Academy in Pocahontas to tell his story of survival and courage. For his actions that day, Williams received: The Purple Heart, The Medal of Valor, a Commendation Citation Award, 2003 City of Marion Officer of the Year, Medal of Valor from the City of West Memphis, 2003 State of Arkansas Officer of the Year Award, and 2003 Arkansas Chiefs of Police Officer of the Year Award.
Williams ended his presentation to the Lions by calling off the names of the officers that have lost their lives in Arkansas in the past couple of years, including five of his friends. Among those five was Officer Jonathon Schmidt of Trumann.
"The best thing for you to do as citizens is to remember what police officers have to go through and be a good witness," said Williams.