Henry Clay Secrease, Sr.
Wednesday, June 5, 2013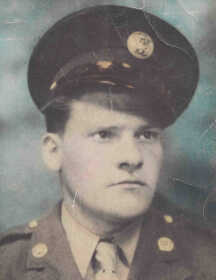 TRUMANN - Mr. Henry Clay Secrease, Sr., 92, of Trumann died Wednesday, May 29, 2013 at the family residence. He was born in Koshkonong, MO and lived most of his lifetime in Trumann. Mr. Secrease was retired from Singer Mfg., a U.S. Army veteran of World War II, a former city councilman and a member of Pleasant Valley Baptist Church. Mr. Secrease was preceded in death by three sisters, four brothers and his parents, Samuel and Ollie Holloway Secrease.
He is survived by his wife of 72 years Ovella Wood Secrease; one daughter, Sue Green of Norman, OK; one son, Henry Secrease, Jr., of Trumann; one sister, Wanda Lee Secrease of Harrisburg, Ark.; three brothers, Roy Secrease of Jonesboro, Ark., Neal Secrease of Kokomo, Ind., and Harold Secrease of Ash Flat, Ark.; 3 grandchildren, 4 great-grandchildren and 2 great-great-grandchildren.
Funeral services were June 1, 2013 in the chapel of Thompson Funeral Home with Bro. Larry Loggins officiating. Burial followed in Jonesboro Memorial Park Cemetery in Jonesboro, Ark.
Pallbearers were David Smith, George Wood, Chris Secrease, Clark Secrease, Bill Wagner and Vance Secrease. Honorary pallbearers were be Peavine Gartman, Bud Blasingame, Leroy May, James Taylor, Derick Smithson and Raymond Whittingham, Sr.
Memorials may be made to Pleasant Valley Baptist Church in Trumann, AR 72472.
An online guest book can be signed at www.thompsonfuneralhome.net.