Lepanto welcomes new officer
Saturday, June 8, 2013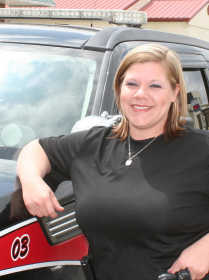 Mary Rolland recently joined the Lepanto Police Department as the city's first full-time female officer.
Originally from Wynne, Ark., Rolland holds a degree in Criminal Justice and worked for the Marianna Police Department before coming to Lepanto.
Rolland got into law enforcement for several reasons. "You're a counselor, a referee and a family member to people," she said. "A big part about it is you get to enforce the law and make sure justice is done. You're not guaranteed to do the same thing everyday. It keeps you on the edge of your seat."
Another part of the job she enjoys is the community. "I love the people," Rolland said. "Kids come up to you and give you high fives. You need to show compassion to the community and give the kids something to look up to."
Rolland is a single mother of four boys. She cited her kids as another reason she went into law enforcement. "It gives them something to look up to. They can say, 'I'm proud of my mom,'" Rolland said.
But one of the major reasons Rolland became an officer is a personal one. In 2003, her oldest son's father was killed in a drive-by shooting. "The guy fled and was gone for a year and a half. Then he turned himself in, did four years and was free. That's what motivated me the most," Rolland said.
As far as challenges she faces as a woman in law enforcement, Rolland said, "Women have a little bit more compassion than guys do, but at the same time you have to hold your own ground. You have to remember you're the one in control, not them. It can be like taking care of kids."
She also encouraged women who are looking for a career in law enforcement to persevere. "If there are any women who want to work in law enforcement and think they can't make it, don't give up because it will happen," she said.
For Rolland, the best part of her job is helping people. "The most rewarding thing is being able to go home at the end of the day knowing you saved someone's life or helped somebody. That's the biggest reward ever," she said.