Law enforcement officer speaks to Lions
Sunday, June 9, 2013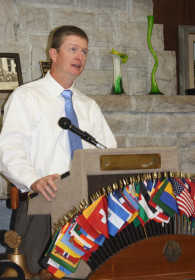 Lt. Brant Tosh from the Criminal Investigation Division for the Arkansas State Police educated the Lions Club last Thursday on the several different divisions and their role in the state police department.
Tosh has served with CID for 16 years, with his career in law enforcement beginning at the age of 19. He received a 12 week training at a basic police academy, a 15 week training at the state academy, an associates degree in Criminal Justice and a bachelors of science degree.
"I grew up in a law enforcement family," Tosh said. "Law enforcement is my calling. It's all I ever wanted to do."
He said his dad worked for the state police for 36 years, with a few of those years served in Poinsett County.
Tosh is the Lieutenant of Company F, which covers Clay, Cleburne, Craighead, Greene, Independence, Jackson, Lawrence, Mississippi, Poinsett, Randolph, Sharp and White Counties.
"We're like a lot of law enforcement agencies right now, we're short handed," Tosh said. "We're mainly here to assist other agencies."
Within Tosh's two sections of the criminal investigation division that Tosh said he wished had more man power was cyber crimes and narcotics.
He added that he only has one man for each section to serve the 12 counties that he covers, however they work hard. The investigator for cyber crimes spends hours communicating with pedophiles online and catching them daily. He also has the ability to intercept child pornography pictures that are traded among them via internet.
"You don't always get to read about it, but he spends thousands of hours online finding these guys in these 12 counties," Tosh said.
He commended his investigator for narcotics for his work in also getting "someone about everyday" through attempting to buy drugs and searches.
"Hopefully as the economy improves along with our manpower, we will be able to heal some of those wounds we have throughout the area," Tosh said.
He told the Lions that he does think that more manpower will help reduce the crime rate in the counties, but it takes more than that. With crime on the rise, the job of a law enforcer will not be diminishing any time soon.
"The most common question I have is: what can we do to make it get better?" he said.
Tosh added there are several reasons crime rates are rising. He firmly believes it is the increase in broken homes that has led to the worsening. Children need role models within the home and within the community, he said.