Trumann Chief talks seat belts
Monday, June 10, 2013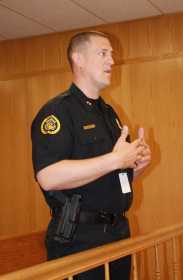 With a noticeable rise in seat belt violations, the Trumann Police Department has been advocating a more intense effort to educate residents about seat belts even before the "Click it or ticket" campaign launched on May 20.
"I personally noticed that it was something that was approached in a relaxed way when I came here, and it definitely lacked enforcing," Henson said.
Since then, he has been encouraging his officers to issue warning citations for a person's first offense and then a ticket any time afterward.
During the "Click it or ticket" campaign, Henson said there was a zero tolerance policy because of the rise in traffic.
Research done by the U.S. Department of Transportation's National Highway Traffic Safety Administration shows that 52 percent of 21,253 passenger vehicle occupants killed in 2011 were not wearing their seat belts at the time of the crash. Their research also shows that an estimated 11, 949 lives were saves in crashes nationwide by wearing a seat belt.
Henson said most of what he is noticing with the violations involves children. Parents are unaware of when their child does not have to sit in a child restraint systems. He said the law allows the child to get out at the age of 6 or at the weight of 60 pounds.
"That's why we issue the warning, because the most important thing is to educate everyone before something does happen," he said.
Another thing Henson pointed out that he sees frequently is the lack of wearing a seat belt correctly. Seat belts are to be worn properly over the shoulder and across the chest.
"In the eyes of the law, wearing the strap behind you is like not wearing a seat belt at all and you will get a ticket," the chief said.
According to NHTSA, more than 75,000 lives were saved from 2004 to 2008 by wearing a seat belt properly.