Tyronza hosts Stars and Stripes
Friday, June 14, 2013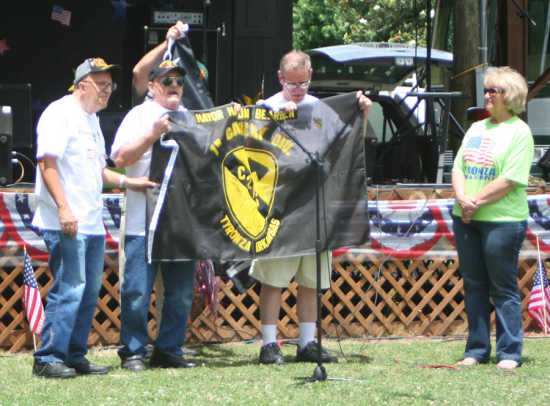 Tyronza held the 11th annual Stars and Stripes Jubilee this past weekend with several in attendance. The jubilee kicked off with a dinner to honor veterans within the area.
"We hold this dinner so that all of you can enjoy, reminisce, talk with old friends and even make new friends," said David Wood, chairman of the Veteran's Committee in Tyronza.
Wood briefly spoke to the veterans about the about the Bring the Wall to Tyronza project that involves bringing the Vietnam Traveling Wall to the town. He said the wall came to Marked Tree in 2008. For the past three years, Wood has been working on raising $10,000 for the wall. He added that he is looking to have it soon, because within the next five years, the movement of the wall will be stopped.
"I try to put so much into this because they never got a welcome home, and I know a lot of our veterans would enjoy it and it'd benefit the community," Wood said. He thanked all of the veterans present for their sacrifice made for their country.
Tyronza Mayor Marion Bearden also had a few words of thanks to give to the servicemen.
"We are always honored for the veterans to come in," Bearden said. "Most of you have helped make it well aware to the community of how much it means to be welcomed, and that's what we try to do."
Reminiscing, Bearden recounted her childhood memories of friends who went off to war to serve in Vietnam. She emotionally told of the way the soldiers fulfilled their duty to protect, but everyone failed in their duty to give thanks and welcoming.
"I would hear the stories of what it was like and the way they were shunned, and it's heartbreaking. They risked their lives, and never got so much as a thank you," Bearden said.
She added that the festival is originally centered around memorial day, and has had a lot of success growing each year.
Harold Blackwood, Justice of the Peace for District 11, which includes Tyronza, estimated that about 4,000 people were present during the festivities of the Stars and Stripes Jubilee. He added that four elected officials of Poinsett County were present including himself, Poinsett County Tax Assessor Johnny Rye, Justice of the Peace Jeff Jones, and Sheriff Larry Mills.
"All of it really is an honor from the dinner to the festival, and it means a lot to me," said Blackwood, a Vietnam veteran. He has attended the festival every year since it started and made many new friends along the way.