Darin Walton family named Poinsett County Farm Family of the Year
Saturday, June 15, 2013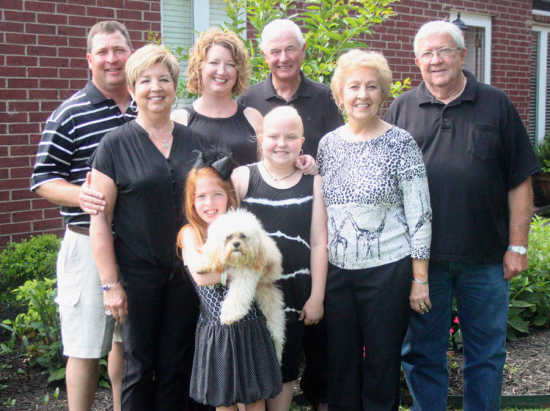 Twenty-five years ago, Darin Walton started farming on 60 acres of land. Today his operation has grown to encompass 2,340 acres, and he runs his own flying service. This year, the Darin Walton family of Trumann has been named as the Poinsett County Farm Family of the Year.
"I think they made a good choice for farm family," said Craig Allen, Poinsett County extension agent for the University of Arkansas, Division of Agriculture. "It's been a privilege working with them. They're a good family, and they're carrying on a tradition."
"I definitely appreciate receiving this. Being named Farm Family of the Year is an honor," Walton said. "My first thought was: we don't deserve this. If we get anything out of this today, it should be that we didn't do this by ourselves."
From the county extension service to bankers to family and farm hands to chemical, fertilizer, fuel and implement dealers, Walton was quick to mention all the people who made the running of his farm possible.
"The list goes on and on and on of the people who help us on a daily basis. I want to say how thankful I am with the people who have helped and continue to help us. To be able to do what we do, it's a good life. I was fortunate to farm growing up, to continue to farm, and to have the flying service. It's fun to get up and go to work every morning," Walton said.
Farming history
Both Walton and his wife, Leigh Ann, grew up in farming families. In fact, Leigh Ann's childhood home is next to Walton's current farming operation. The Waltons are a fourth-generation farming family. Walton's great-grandfather farmed within a one to two mile radius of some of the land Walton farms currently.
While Walton was attending Arkansas State University, he rented 60 acres of land from the Patteson Gin Company to start farming. He bought equipment with a new farmer loan from the Farmers Home Administration and started farming cotton with his brother, Derek, in 1988.
In 1993, Walton and Leigh Ann married, purchased their first home, and bought their first 40 acres of land. In 1996, Walton divided the farming operation with his brother and switched farming grain. His brother took the land more suited to cotton, while he took the land suited for grain.
Walton used his pickup truck and van trailer as his farm shop until 2002, when he built his current headquarters. By 2009, the farm had grown from 1,500 acres to over 4,200 acres. Walton has since downsized as his flying service, Walton Ag Wings Flying Service, grew.
Today Walton rents 2,105 acres and owns 235 acres. His major crops include 1,725 acres of soybeans, 400 acres of wheat, 325 acres of corn, and 285 acres of rice.
Flying service
With Walton Ag Wings, Darin Walton was able to turn a hobby into a business.
Walton got his pilot's license in 1988 and has loved flying ever since. In 2004, he purchased an acrobatic airplane which he used to check his irrigated fields and take acrobatic flying lessons.
Walton had always dreamed of crop dusting, but Leigh Ann was afraid of the dangers involved. However, she decided if he was going to pursue acrobatic flying anyway and flip his plane around in the air, he might as well get paid for it.
Walton formed Walton Ag Wings in 2009 with the intention of crop dusting farmland belonging to himself and immediate family. Taking on crop dusting in addition to farming became like having two full-time jobs. Walton was farming during the day and spraying at night, so he made an agreement with Leigh Ann to decrease his farming operation to better accommodate crop dusting. They agreed to decrease farming acreage by half in five years, but it only three.
In 2009, Walton started his flying service with a 1978 Turbine Ag Cat airplane. He purchased a new Thrush 510 airplane in 2011, which allowed him to further expand his crop dusting service.
"So far, it hasn't ruined my enjoyment of flying," Walton said.
Farming and family
According to Darin Walton, two things that make his farm different from others are his flying service and the day to day involvement of his parents, Bob and Sue.
Walton's parents' farming operation was hit by difficult times in the 1980s, and they left farming for other careers. But they have since returned to farming and help him out on a daily basis. Bob is there every day to help manage the farm. "He helps to make sure things are being done correctly. He is also the main parts man and the go-to guy for running errands for parts and supplies," Walton said. Bob's presence on the farm has become especially valuable as the flying service has grown and Walton spends more time in the air.
Sue started taking care of the bookkeeping after she retired in 2011. She does the payroll, enters data on the flying service statements and keeps accounting and banking information current.
"Mom and Dad kept me out of trouble when I was knee-high. Now I'm 45, and they're still keeping me out of trouble," Walton said.
Walton's wife, Leigh Ann is a Speech Language Pathologist at Valley View Elementary School in Jonesboro. She is also directs the school drama club and teaches a first grade Sunday School class at First United Methodist Church of Jonesboro, where the family are members.
The Waltons have two girls. Kat is ten years old, and Caroline is seven. The girls stay busy after school with art lessons, gymnastics and swim team practice. During June, the girls help their cousins shell sweet corn at the NEA Farmer's Market. The corn is raised by their grandfather, James Bingham. Leigh Ann, Kat and Caroline also volunteer at the Northeast Arkansas Women's Crisis Center Second Home Boutique helping customers as personal shoppers.
Walton serves as consumer advocate/parent representative on the Board of Speech Language Pathology and Audiology, a position he was appointed to by Governor Mike Beebe in 2011. He has also served on the Poinsett County Farm Bureau Board and currently serves on the Poinsett County Soil and Water Conservation Board.