City, State Representatives honor Nichols at MT council meeting
Sunday, June 16, 2013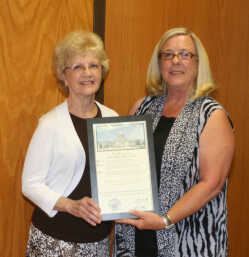 Gail Nichols, wife of the late Wayne Nichols who passed away on May 5 during his first term as mayor of Marked Tree, received certificates of appreciation for her husband's service during the Marked Tree City Council's monthly meeting Monday.
City Clerk Pam Wright presented Nichols with an In Memoriam plaque from the Arkansas House of Representatives while Interim Mayor Michael Scott presented her with a proclamation commending Wayne Nichols for his contributions to the community.
According to Nichols, though Marked Tree was not where her husband was born, he considered it his hometown. "Wayne was not raised in Marked Tree," Nichols said. "This was his adopted city. He loved Marked Tree. He told me numerous times that he didn't want to leave Marked Tree when he retired."
Among Wayne Nichols' contributions listed on the proclamation, he served as mayor from Jan. 1, 2011 to April 29, 2013, served as an alderman, served in the Arkansas Legislature from 1999-2006, served as commissioner with Arkansas Rural Services, served as a Poinsett County election commissioner, was a member of the American Legion, worked for E. Ritter and Company for 43 years, and was a member of Marked Tree Church of God. This year, he received the Marked Tree Chamber of Commerce Award of Excellence.
"He loved serving in the Legislature," Nichols said. "His goal was not just to pass bills. He wanted to help his constituents. I'm just sorry we lost him and that he wasn't able to finish his term. They didn't come any better than him. He loved Marked Tree with all his heart."
In business, the council:
*received an update on the Awesome Products factory from Mayor Scott. Scott said he talked to the West Memphis manager and then talked to his supervisor who said he was having problems with an overseas shipping company and could not give a date on when the Marked Tree factory can open.
*accepted a grant from of $1,600 from CenterPoint Energy for the fire department.
*discussed the Carver Reunion Board's offer to purchase Carver Park from the city. Wright said the CRB offered to purchase the park for $1 and write grants to renovate and maintain the gym. The CRB also wants to hire someone to run the gym and is willing to work together with the city. "I think it's a really good idea. We're losing money on it, and it will eventually become a liability to the city," alderman Shane Glenn said. Wright said she would check on what the city can do and will present the details next month.
*heard from Joan Campbell regarding drainage issues. Campbell said a neighbor's water was leaking onto her property. The leak is not on the city's water line. According to Director of Public Works Wayne Hendrix, the city cannot shut off the leaking water line if the owner is paying the bill. Glenn asked Hendrix to call the state plumbing board about the issue.
*discussed roof repairs on the Marked Tree Senior Center. Mayor Scott said only one bid had come in, and he wanted to wait until he could get another bid before deciding how to proceed.
*discussed disciplining supervisors in executive session. No action was taken.