Veteran speaks to Quorum Court
Monday, June 17, 2013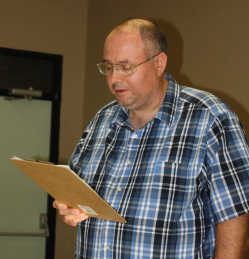 Poinsett County Veterans Service Officer Terry Long spoke to the Quorum Court at their monthly meeting on Monday, June 10, with an update on his office and the department of Veterans Affairs.
With him was Robert Brashears, a retired Sgt. Major with 30 years in the Army and a certified VSO veterans officer. Long said Brashears has been a big help in running the office over the past year.
Brashears explained how they have helped veterans by telling a short story of an 87 year old World War II veteran, who has been dependent on his wife the last several years with little income. With the help of Brashears and Long, the man is anticipated to finally have benefits from the Veterans Administration.
While explaining the work that goes into each request to the Veterans Administration, Brashears said that anywhere from "10 to almost 500 pages of documentation per request." Long added that they have been very busy lately with the documentation process and requests.
Long also mentioned the recent Veterans Outreach Program that was held on Saturday, May 4, by the Poinsett County Veterans Service Office and Harrisburg's C.C. Hill American Legion Post 14. Two guest speakers were present including Gina Chandler, with the State of Arkansas Department of Veterans Affairs, and Mark Frank, manager of the the Arkansas State Veterans Cemetery in Birdeye.
"We had hoped to see more in attendance," Long said. "There was a lot of people that missed out on good opportunity, because we had an expert right here in the county to answer questions. It was low attended."
According to Long, the last official state count of veterans in Poinsett County was 2,247.
He mentioned another program that has been successfully implemented by the service office is the Flag Education Program given to fifth graders in the area each year. Long said some of the other major high density work that his office does includes service connection disability claims, pension for low income and elderly veterans, healthcare enrollment, home visits with disabled and elderly veterans, research on claims and take care of archive record requests.
After his presentation, Poinsett County Judge Nix spoke to the court about the recent flooding issue. He said a preliminary team of state and federal officials are going through several counties in the state to see if there is enough damage from the flooding for a federal declaration within the state.
"At this point, I would say that there is going to be," Nix said.
Several pictures were presented to the court of damages done to roads in the county from the several inches of rain. Nix said he also heard of hundreds of acres having to be replanted from the flooding.
"I just wanted to give you some kind of idea of what we are working on with FEMA right now and what they are looking at," Nix said.