Chief wishes to start citizen's police academy
Saturday, June 22, 2013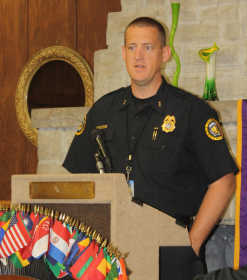 Trumann Police Chief Chad Henson spoke to the Lions Club last Wednesday with the hope of getting the community interested in a citizen's police academy. As of now, the chief said he is trying to see how many people would be interested in participating before he actually begins working on the project.
His hopes for the academy are to educate willing and interested citizens on law enforcement.
"My plan is for it to be a program to get inside and see and know what we know," Henson said.
The program is expected to be 10 to 13 weeks of classes. Henson said many of the classes will be in a classroom-like setting, but there will be classes held in the field of duty for students to get a real-life feel for law enforcement.
Participants must live in Poinsett County to enter into the academy. Henson said this was a requirement because of the importance of attendance on a weekly basis. Participants must also be 18 years of age or older and pass a background check. The chief hopes to see 25 to 30 people enrolled in the first class.
He added that the first class of graduates from the academy will be alumni that will serve on a voting board of advisers for him.
One of the underlying reasons for advocating the program is the drug "epidemic" that he has seen Trumann face for the past few years.
"We have an epidemic of prescription pill abuse--not a problem," Henson said.
He added that they are able to contain other illegal drug usage fairly well. However, the abuse of prescription drugs is much harder to contain.
Henson told the Lions of a new prescription drug monitoring program that he recently became aware of in a seminar. The program is meant to create a better communication means for health care providers and pharmacists. With this communication, the chief said prescription drug abuse can be significantly decreased.
"People who get these drugs go to several different doctors all over the region in one day to get several prescriptions, then they go to a different pharmacist for each one," Henson said. "So by the end of the day, they have hundreds of pills to sell on the black market. If these doctors and pharmacists communicated with each other when they hand out these prescriptions, it'd be a lot harder to do that."
The online program was recently launched, but Henson said it is not mandatory in the state yet. He encouraged Lions Club members and others to contact state senators and representatives.
"The black market is what is destroying these small communities," Henson said.
The chief made mention of one other event that he is hopeful to see Trumann get involved in for the upcoming year--the Law Enforcement Torch Run for the Special Olympics. He said the run has been from Jonesboro to Tuckerman in the past. He hopes to have it come through Trumann in the coming year. He mentioned that fundraisers for the Special Olympics run will be starting near the end of this year with a Polar Plunge.