SportsCenter Legion rolls to seventh straight win
Friday, June 21, 2013
Marked Tree SportsCenter visited Armorel in Junior American Legion baseball this past Friday. Marked Tree came back from a 2-0 deficit to win the opener 3-2 then posted an 11-0 win in the second game. The two wins made it five wins in a row for Marked Tree.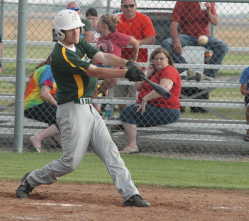 Armorel jumped out to a 2-0 lead after one innings ad they took advantage of advantage of two Marked Tree errors in the inning.
SportsCenter threatened in the top of fourth getting runners to second and third with two outs but a Taylor Wilson ground out would end the threat. Armorel looked like they might extend the lead as the leadoff batter singled and advanced to third on two wild pitches. The next batter walked and moved to second with no outs. Brody McCrary struck out the next batter, induced a pop up on the infield for an out and then struck out the next batter to end the inning.
Marked Tree left a runner stranded at third in the top of the fifth as Clay Malone singled to lead off before stealing second and third base.
Bailey Gilbert reached on an error to start the sixth inning for Marked Tree. Hunter Pitts singled followed by Blake Daniels being hit by a pitch to load the bases. Dylan Hunt singled driving in Gilbert and Pitts to tie the game at 2-2. Daniels was thrown out trying for third as Hunt went to second on the throw. Wilson stepped in and delivered a single that scored Hunt and turned out to be the winning run.
McCrary retired Armorel three up, three down in the bottom of the seventh to seal the win for Marked Tree.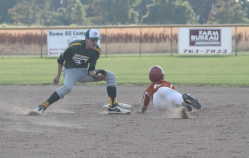 Hunt had a hit, run scored and two RBIs, Pitts had two hits and a run scored as Wilson had a hit and a RBI. Gilbert, Malone and Garrett Woods each had a hit.
McCrary got the win going all seven innings. He gave up two runs on three hit while walking three and striking out seven.
Marked Tree swept another doubleheader from Armorel this past Tuesday to run their win streak to seven games.