Poinsett County teams featured in Hooten's Arkansas Football
Thursday, June 27, 2013
Trumann -- The Trumann Wildcats are voted by 3-4A conference coaches to finish sixth in the league in the 21th annual Hooten's Arkansas Football magazine. The Harrisburg Hornets are voted to finish seventh in the 3-3A, while coaches in the 3-2A voted East Poinsett County second and Marked Tree sixth.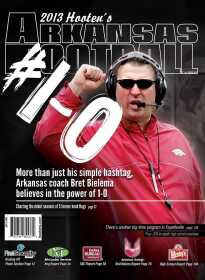 The Arkansas Razorbacks are picked sixth in the SEC Western Division and ranked 49th nationally.
The book retails for $17.99 and can be purchased in Harrisburg at Food Giant, in Trumann at Flash Market and Walmart, in Marked Tree at Bill's Fresh Market. The book can be purchased statewide at Kroger, Walgreens, Hastings, Books-A-Million, Barnes & Noble, Harp's Food Stores, Price Cutters, Big Red Stores, Hays Food, Brookshire's, Buy Rite, Flash Market and PDQ.
The 440-page book, which takes more than five months to compile, offers the most comprehensive preseason football coverage in Arkansas. Arkansas Razorback first-year coach Bret Bielema is featured on the cover.
In addition to providing extensive coverage of every high school team in the state, the book offers an in-depth preview on the Razorbacks and coverage on each Southeastern Conference school. Arkansas State and every state college are previewed as well as all 126 Division I college teams in America.
The graphically enhanced book features coaches' polls for each high school conference, statewide rankings for every team, super teams for each classification, a national college poll and complete college and high school schedules.
Alabama is tabbed to win the SEC West, followed by LSU, Texas A&M, Ole Miss, Mississippi State, Arkansas and Auburn. Georgia is picked to win the SEC Eastern Division, followed by South Carolina, Florida, Vanderbilt, Missouri, Tennessee and Kentucky.
The Alabama Crimson Tide are Hooten's preseason No. 1 team, followed by Ohio State, Stanford, Oregon and Louisville.
Hooten's high school favorites to win it all in 2013 are North Little Rock in Class 7A, Pine Bluff in Class 6A, Camden Fairview in Class 5A, Warren in Class 4A, Harding Academy in Class 3A and Junction City in Class 2A.
The book is published annually by Hooten Publishing, Inc., of Benton.