Walters and Knight share All-Star experience
Thursday, June 27, 2013
Hannah Walters of Trumann and Shelbi Knight of Marked Tree represented their respective schools in the Arkansas High School All-Star Softball games that were held in Conway at the University of Central Arkansas on June 18th. Both players suited up for the East squad and ended up splitting the doubleheader as they came back from a 6-0 deficit to win 8-6 in game one before falling to the West team 8-1 in the night cap.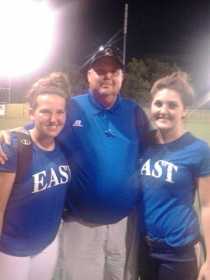 Walters spoke of her experience during all-star week. "The feeling of getting to be a part of the all star team was amazing! Just knowing you we're one of the few players chosen to play in one of the biggest games of your career was a feeling like no other," Walters said. "Knowing that this was my last game to play of my high school career was very sad, but on the other hand, I wanted to go out with a bang and I think I did a pretty good job at that. I am very blessed and thankful to have gotten this opportunity and I wanna thank my family and coach Brian Haynes for helping me to be the best player I can be and even making it this far in my high school career," Walters added.
Knight was also thankful of the experience she enjoyed while in Conway. The game was a little more special for Knight as she got to play one last time for her high school coach, Waylon Dunn, who was selected to be an assistant for the East. "It was an amazing last game, especially because I got to play with my high school coach, coach Dunn, one last time," Knight said. "It was awesome, I met a lot of new people. I'm really glad I had the chance to go and play. It was also my last game of fast pitch school softball because I'm not gonna play in college," added Knight. "But I loved every minute of it!"
Walters finished the night with three hits. She got to pitch and played first base. Knight collected one hit on the night as she played right field.
Congratulations ladies on your accomplishments!