Trumann Auto Parts celebrates 60 years
Friday, June 28, 2013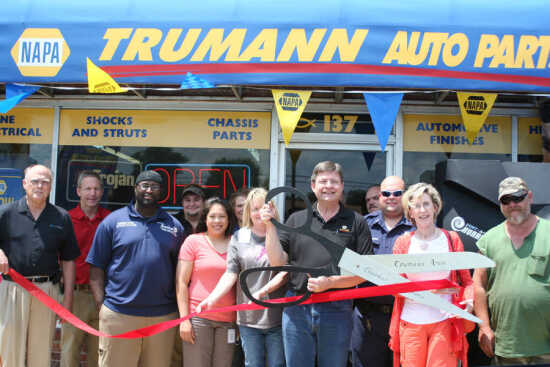 Neal Vickers, president of the Trumann Chamber of Commerce and owner of Trumann Auto Parts-NAPA, spoke to the Trumann Lions Club of progress made in Trumann along with his store in the last 60 years.
"This year marks the 60th year for NAPA Trumann Auto Parts," Vickers said. "Sixty years in a community is quite a testament. The success of having a business for 60 years in a community like Trumann does not revolve around how good of a business person you have to be. It's more than that. It's about your customer-base."
Vickers said his customers have been faithful with their purchases.
"People make commitments to you and come and buy," he said. "You become a part of the fabric of the community and they become a part of you."
He added that their 60 years of service to Trumann have been great. NAPA sells many items that are not automobile-related such as tools and supplies. Their variety of supplies draws in customers of all needs. Vickers also said their customer-base consists of Trumann, Central, Harrisburg, Bay, Lunsford, and many other surrounding towns.
Vickers said Trumann is the largest city in the county with many farming needs that NAPA can meet.
"Diversification is a big deal," he said. "It's the name of the game."
The parts store has recently been remodeled with many visible renovations. Vickers said 2013 has proved to be a good year for the store. They are experiencing growth rather than stagnation. NAPA Trumann Auto Parts recently placed ninth in the nation on filter sales. A few years ago, the parts store was first in the nation for toolbox sales.
The store has been in existence since 1954. Vickers worked for Jerry Vinson, former owner of Trumann Auto Parts, from 1976 to 1978. He went to college in Missouri, where he worked part time at another parts store. After retiring early from an academic career at the age of 50, Vickers decided to come back to Trumann to purchase the store he worked at as a young man.
NAPA celebrated their 60 years of business with a Customer Appreciation Day on Friday, June 21. With many in attendance, the community enjoyed hotdogs, door prizes and a ribbon cutting ceremony.