Groundbreaking held for new buildings
Saturday, June 29, 2013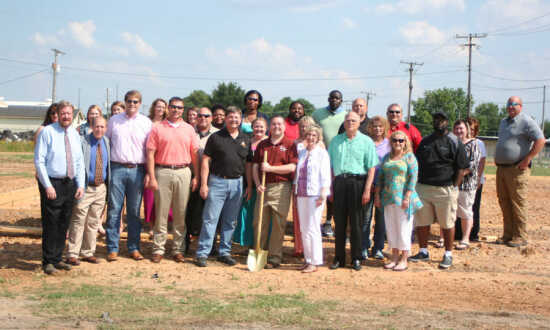 Two new buildings will be going up in Trumann where Guy's Discount Center used to be at 333 Highway 463. The Trumann Chamber of Commerce held a groundbreaking ceremony for the buildings on June 20.
According to developer Scott Richards, one of the buildings will house Day Spring Behavioral Health Services. The other building can hold three tenants. Victory Insurance and H&R Block are going into this building. The three-tenant building will be 4,200 square feet while the Day Spring building will be 6,000 square feet. There will also be a 2,400 square foot play area outside between the two buildings.
Richards began his professional career at H&R Block in 1997 and purchased the Trumann franchise in 2000. He bought the Finch-Sumpter Insurance Agency in 2003 and changed the name to Victory Insurance Agency. He expanded the Marked Tree based business later that year.
Day Spring Behavioral Health Services came to Trumann in 2003 and is currently set up in Dr. Smith's building at 417 West Main Street. According to Dr. Jackie Ferrell, regional director and clinical advisor, Day Spring offers mental health services, therapy, med management, and case management. With 17 employees, they serve all of Poinsett County with most of their clientele coming from Trumann. Dr. Ferrell said he hopes to open in the new building by the end of August.