Marked Tree Rotary plans to honor Peggy Bankston
Tuesday, July 2, 2013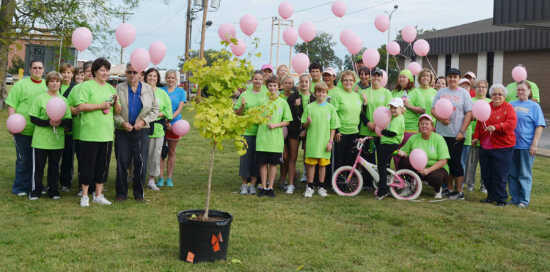 The Marked Tree Rotary has began planning for the annual Walk/Run/Ride for the Cure on Saturday, Sept. 28. The walk is held each year in honor of Peggy Bankston, a lifetime community advocate of Marked Tree.
Bankston grew up in Marked Tree where she worked tirelessly to give her time to others. She was a Rotarian and the pianist/organist for First Baptist Church in Marked Tree. She had four children with her husband, Robby Bankston. They include Janna Hatley, Jennifer Massey, and Wayne Bankston of Marked Tree and Christy Wallace of South Carolina.
In Aug. 2005, the family and community lost their dear loved one to breast cancer. Shortly before her death, the Rotary asked Bankston what they could do to honor her life as a Rotarian. They decided to hold a walk in her honor.
Bankston requested that all proceeds of the event to be donated to the Susan G. Komen Breast Cancer Foundation, an organization that has spent nearly 30 years doing patient advocacy, building awareness and investing more than $1.3 billion in breast cancer research, education, screening and treatment programs.
The first walk in memory of Bankston was held in 2006. Bonnie Thompson, chairman of the walk and friend of the Bankston family, said the walk has raised roughly $1,000 each year since it has begun with 50 to 100 participants each year.
"She was respected and loved by everyone that knew her, so we are hoping to see the number increase even more this year," Thompson said.
In 2011, a tree was planted before the walk began at Iberia Bank in Marked Tree in honor of Bankston's life. The walk this year will begin at the tree and end at the bridge where balloons will be released. To honor her, each balloon will have an attached message.
The walk will be held on Saturday, Sept. 28. Preregistration and prepay are open until August 15 to receive a free shirt. New design t-shirts will only be ordered for preregistered and prepaid entries. All others registering may register on the morning of the walk beginning at 8 a.m. Participants are asked to donate $25 to register for the walk. The walk will begin at 8:30 a.m.
Those who wish to preregister before Aug. 15 for the walk may do so at the Unico Bank in Marked Tree. For more information, contact Bonnie Thompson at (870) 358-3700.