Tyronza Senior Center holds grand opening
Friday, July 5, 2013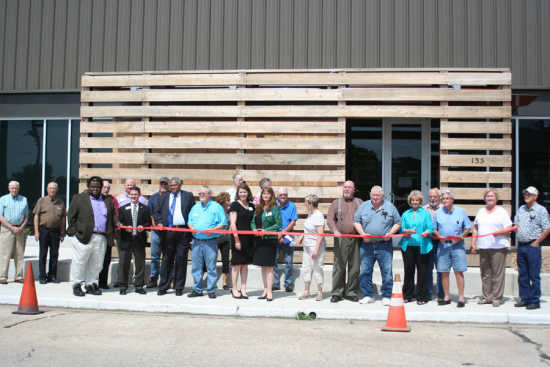 It's taken four years, but Tyronza senior citizens now have a place to call their own. The Tyronza Senior Center opened its doors Wednesday, June 26, for a grand opening.
"For the past 11 years serving as mayor, the Lord has blessed us in so many ways," Mayor Marion Bearden said. "This is one of those days we look up and say thank you."
The center was funded with grant money totaling $480,000 from U.S. Department of Agriculture and the Arkansas Economic Development Council. Representatives from USDA and AEDC, along with representatives from Senator John Boozman's office and Rep. Rick Crawford's office, were present for the opening.
The 2,350 square foot center is located on Main Street between city hall and the Southern Tenant Farmers Museum. The center includes an exercise room, kitchen, and main room for meals and games which is surrounded by large windows to let the sun into the spacious area. The architect for the center was Rob Norcross with Looney Ricks Kiss out of Memphis. Norcross is a Tyronza native.
"Rob went through two different designs. I believe we have a beautiful and unique building," Bearden said.
Bearden thanked Ritter Arnold for donating furniture to the center and First Delta Bank for donating a Nintendo Wii so seniors can get exercise playing games such as Wii Bowling. She said landscaping was done by about 30 volunteers. "We have a community that works together. That's what it takes," Bearden said.
Bearden anticipates the center will serve around 25 seniors on a daily basis. Right now, the City will be working with volunteer citizens to administrate the center. Bearden said they plan to hold health screenings for seniors at the center--Crittenden Regional Home Health was set up for screenings on opening day--and work closely with the Southern Tenant Farmers Museum to offer quilting and art classes.
"We'll play with the group to see where their interests are and provide that," Bearden said.