CASA trainer speaks at Trumann Lions Club
Sunday, July 7, 2013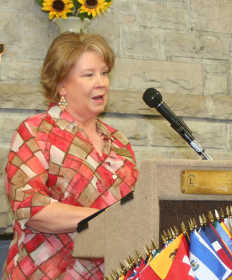 Barbara McMorries, Advocate Recruiter and Trainer for CASA (Court Appointed Special Advocates) of the 2nd Judicial District, spoke recently with the Trumann Lions Club about what CASA volunteers do and about the need for new advocates.
"In 2012, 80 children were taken into foster care. Five had CASA representatives. Our goal is to represent every child in foster care," McMorries said.
CASA was formed in 1977 after Seattle Superior Court Judge David Soukup realized he was giving cookie cutter rulings to cases and saw a need for child advocacy. CASA has been in Arkansas in 1995.
CASA advocates give testimony about the progress of children they are assigned, advise the court if the DHS (Department of Human Services) case plan is being followed and if children are receiving services. They visit their assigned children in foster homes, observe supervised visits between the children and their family, talk to school administrators, doctors, and therapists and make recommendations to the court based on their findings.
"DHS does a great job, but they're overworked. A DHS worker may have 40-60 cases at a time, but CASA advocates have 1-2 cases at a time," McMorries said. This allows CASA advocates to get a better idea of how the children are doing and what the children need.
"The judges need us. They call us the eyes and ears of the court. One judge told me he reads the CASA report before anything else," McMorries said.
McMorries just trained two classes of advocates but noted CASA is only serving 12% of the children in foster care. "It takes 10-15 hours a month to make a complete difference in a child's life," she said.
CASA advocates' reports to the court help to decide if children are returned to their home, but McMorries noted while DHS' goal is reunification, CASA's goal is to get children into a safe, loving home as quickly as possible. Advocates are trained to go into cases as objectively and respectfully as possible. And because advocates only focus on one case at a time, they are able to facilitate services for children who sometimes slip through the cracks. McMorries gave an example of an advocate who realized a child needed glasses and had somehow never gotten any.
McMorries said CASA advocates must over 21, passionate about children, and emotionally mature enough to be engaged with each case while remaining objective. Anyone wishing to volunteer with CASA may call her at 870-935-1099.
"We're just one piece of a big puzzle, but we're an important piece," McMorries said.