Molder educates on law enforcement
Monday, July 8, 2013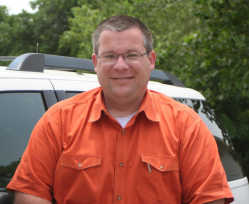 (Editor's Note: This is the first in a series of articles recognizing longtime police and fire fighters during the month of July.)
Kevin Molder, Chief Deputy Sheriff for the Poinsett County Sheriff's Department, has spent 18 years of his life dedicated to helping others through the law enforcement field.
Molder's interest in becoming one of these everyday heroes began when he was about 7 years old, listening to an officer give a speech on safety one day at school. He began pursuing his dream by going to Black River Technical College and receiving an associate's degree in Criminal Justice. Later on, he went to Arkansas State University to receive a bachelor's degree in Psychology and a master's degree in Criminal Justice.
At the age of 21, Molder began working as a jailor for the Craighead County jail. In March of 1995, at 22, he was able to become a patrolman for the city of Harrisburg. One year later, he began working for the Poinsett County Sheriff's Department.
Since working as a deputy, he said the most rewarding part of the job was getting help to the people that need it.
"We do more than the law enforcement part of it all," Molder said. "We deal with civil matters, and help people as much as we can with their problems."
As an officer and an individual, community is the most important aspect of the job for Molder. He quoted Sir Robert Peel by saying, "The police are the public, and the public are the police."
With Peel's quote in mind, Molder said he tries to instill the same mindset into other young officers.
"The biggest part of being an experienced officer is making sure the younger officers and the community understands that we work for the people," Molder said.
Molder has taught at the police academy for four years in the past, stressing this part of the job. Presently, he teaches a few classes online for Arkansas State University in the Criminal Justice field in addition to serving Poinsett County.
"It's important that I connect with younger people in the field, because I have that real life experience that I can share and help guide them," the deputy said.
He added for law enforcement to be successful, everyone must be trained in new laws.
Molder's everyday heroism can be found in his desire to help the community and teach others how to do so, as well.