Ricemen hold on for win
Thursday, July 11, 2013
J.D. Rainwater and the Riceland Ricemen cruised along for five innings against Fat City Swamp Cats this past Saturday at Nettleton. The Ricemen held a 4-0 lead going into the sixth inning before Fat City scored twice in the bottom half and left the bases loaded as the Ricemen went on to claim the 4-2 win.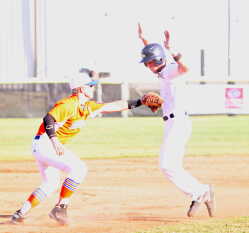 The Ricemen got on the board in the top of the second inning as Hunter Simpson reached on a fielder's choice and scored on an error to give Riceland a 1-0 lead. Nick Brown singled with one out in the top of the third and advanced to third before scoring on Tyler Eudy's groundout to put the Ricemen up 2-0.
J.D. Rainwater kept the Fat City bats silent through five innings but was relieved by Will Bates in the bottom of the sixth. Seth Gray led off with a double for Fat City before Dillon Groves drew a walk to put runners on first and second. Josh Baker reached on a fielder's choice that forced Groves out at second and moved Gray to third. Austin Martin singled to score Gray and make it a 4-1 game. Jay-Ryan Woods drew a walk to load the bases with two outs before Mason Gibson scored Baker with an infield single. Tucker Hydrick struck out with the bases full to end the inning.
Kellan McCann came on in the bottom of the seventh to try and close it out for the Ricemen. Kevin Hullett led off with with a single for Fat City. McCann got Gray and Groves on a line out and pop out respectively. Baker reached on an error before McCann struck out Martin to earn the save and end the game.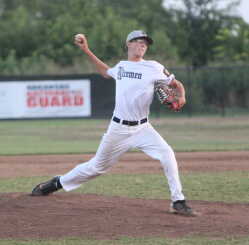 Nick Brown had two hits, a run and a RBI to lead the Ricemen. Eudy had a hit and two RBI, Camp had a hit, run and stolen base. Simpson and Cameron Jones each scored a run.
Martin and Gibson both had a hit and RBI for Fat City. Gray had a hit and a run while Baker scored a run.
J.D. Rainwater got the win going five innings giving up only one hit. He struck out 11 and walked two. Bates went one inning giving up two runs on three hits with two walks and a strikeout. McCann picked up the save pitching one inning allowing one hit and striking out one.
Baker took the loss while pitching the complete game. He gave up four runs on five hits while striking out eight and hitting one batter.