Henderson to resign from Quorum Court
Monday, July 15, 2013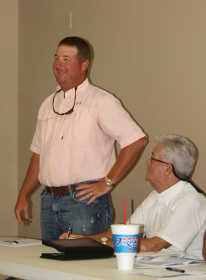 At the Poinsett County Quorum Court monthly meeting, Brent Henderson announced to the court that he will be resigning his position as Justice of the Peace for District 7. Henderson will be relocating away from the district, causing him to be ineligible for the position.
"It's been an honor," Henderson said. "It's been great meeting different people, and I've learned a lot from the time I've been on the board."
Justice of the Peace Gary Anderson submitted Donnie Taylor from Trumann as a suggestion to the board. County Clerk Fonda Condra said they would have the resignation and the suggestion in the form of a resolution at the next monthly meeting.
Condra also mentioned to court members that Poinsett County recently received a $10,000 grant for voting equipment. She said it was to upgrade or buy new voting equipment for the county. They are looking into buying a new iVo machine and touch screens.
In other business, the court accepted the recommendation for Steve Inboden, Mike Dabney, and Jarrett Cobb to serve on the Law Library Board. The Poinsett County Bar Association made the recommendation.
According to the letter of recommendation, the goal of the association is "to use the law library funds to create an online law library accessible to the public, secure internet access in both of the courtrooms, and update some of the technology and equipment available in each of the courtrooms."
At the end of the meeting, County Judge Charles Nix announced there have been recent repairs made to the landfill. The closure of the landfill had not been accepted earlier this year due to weather conditions eroding a small portion of the land. After all needed repairs are done, the land should be ready for closing.
Nix also announced that Arkansas received a federal declaration making Poinsett County eligible to receive federal disaster funds to aid in recovery efforts after recent severe weather.