Blagg serves Trumann for 17 years
Tuesday, July 16, 2013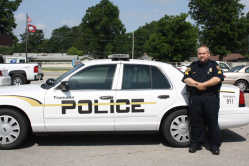 (Editor's Note: This is part of a series of articles recognizing longtime police and fire fighters during the month of July.)
Sgt. Shane Blagg has been with the Trumann Police Department for 17 years. Within that 17 years, he has endured countless triumphs and heartaches in his hometown.
He currently serves as the training supervisor, sex offender coordinator, supervisor over animal control, school resource officer, and occasionally patrolman.
Blagg said his desire to become a police officer sparked at an early age in grade school. However, he did not pursue his dream until about five years after high school.
"Everyone was concerned with the safety of it and the pay," Blagg said. "This job has to be something you really want to do, or you'll quit."
Blagg served as a reserve officer for three years, which is when he found out that he was meant for the job he always dreamed. In May of 1996, he was hired full-time for the Trumann Police Department.
Since his hire, Blagg has underwent five different police chiefs and the loss of two close friends on the job. He said despite everything, nothing has ever altered his passion for working in law enforcement.
"I enjoy working with the community," Blagg said. "Every town has it's bad elements, but the majority of Trumann is made up of good people and that's what keeps me going."
Blagg said his fellow officers also play a major role in keeping him motivated for his work. He learns from them daily, while working towards being an example for them as well.
"It's important for the officers to know that we are here for the public," he said. "We are just like everyone else when it comes down to it. We need to treat everyone like we want to be treated."
For Blagg, the most rewarding part of the job is when the department and officers are appreciated. "I love to hear one of our officers get a thank you," he said.
"A hero is just someone who is there for other people," said Blagg, when asked what heroism meant to him. "I'd like to thank the citizens of Trumann for letting me be there and for the opportunity to serve them for so many years."