Sports Center falls in district opener
Thursday, July 18, 2013
Marked Tree Sports Center opened district play last Friday in Paragould against Mountain Home and were handed an 9-3 loss.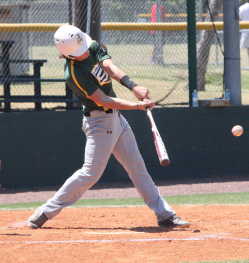 Marked Tree jumped out to a 2-0 lead in the top of the first as Bailey Gilbert walked, stole second and scored on a double by Blake Daniels. Daniels came around to score as the next batter reached on an error. The lead was short lived as Mountain Home scored five runs off starter Brody McCrary in the bottom of the first for a 5-2 lead. Mountain added two more in the bottom of the second to go up 7-2.
Sports Center got a run back in the top of the third as Taylor Wilson singled before working his way around to third and scoring on a passed ball making it 7-3. Mountain Home added another run in the bottom of the fourth to make it 8-3.
Wilson came on in relief of McCrary in the fifth inning. Mountain Home added it's final run in the bottom of the sixth to set the final at 9-3.
Daniels led Sports Center at the plate with two hits, a run scored and a RBI. Hunter Pitts, Clay Malone and Garrett Woods each had a hit as Gilbert and Wilson each scored a run.
McCrary took the loss for Marked Tree going four innings while giving up eight runs on nine hits. He walked two and struck out five. Wilson pitched the final two innings giving up a run on four hits.
Marked Tree lost Saturday in the tournament ending their season with a 13-17 record. Team members included: Brody McCrary, Bailey Gilbert, Blake Daniels, Dylan Hunt and Hunter Pitts from Marked Tree, Taylor Wilson and Garrett Woods from Trumann, Clay Malone and Corbin Truelove from Lepanto and Luke Jackson from Lake City.