Big innings lift Ricemen
Thursday, July 18, 2013
Fat City and Riceland met for the second time in a week. The game was close for the first three innings before back to back four run innings propelled the Ricemen to an 11-4 win.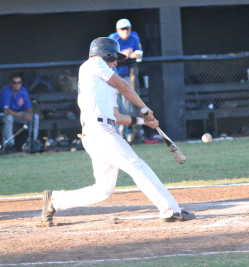 Fat City threatened in the opening inning but a Ricemen double-play helped get them out of trouble. The Ricemen responded with two runs in the bottom half of the inning. Cameron Jones reached on an error to start the game and stole second to get into scoring position. Jones scored on a base hit and the Ricemen added another run to go up 2-0 after one inning of play.
Each team scored a run in the third inning to make it a 3-1 game. Riceland made it a 7-1 game with four runs in the bottom of the fourth inning with three coming off a triple by Jones. The Ricemen stretched that lead to 11-2 with four more runs in the bottom of the fifth inning.
Fat City added two runs in the top of seventh making the final 11-4.
Jones finished with a hit, two runs scored, three RBIa and a stolen base for the Ricemen.
Kellan McCann pitched a complete game for the Ricemen giving up four runs on seven hits. He walked three, hit three batters and struck out three.
Woods finished with one hit for Fat City and took the loss on the mound. Woods gave up eight runs on four hits while walking six and striking out three.