Fields to play baseball at Asbury University
Thursday, July 18, 2013
Marked Tree's Connor Fields recently signed his letter of intent to continue his baseball career at Asbury University in Wilmore, Kentucky.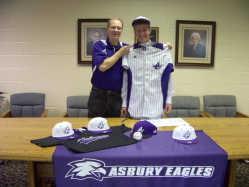 Fields, who transferred from Carlisle, was the starting catcher and pitched for the Indians baseball team this past season.
Asbury University teams are known as the Eagles and they are a member of the National Association of Intercollegiate Athletics (NAIA), primarily competing in the Kentucky Intercollegiate Athletic Conference (KIAC).
"My desire is to play baseball at the next level at a school that will provide me with a good education," Fields said of Asbury.