Local church helps Bridge of Hope
Monday, July 22, 2013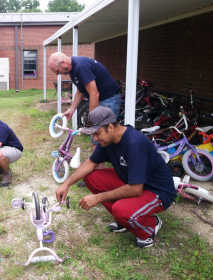 As a Youth in Action project, the youth of Calvary Pentecostal Church in Trumann did not have to venture very far to find work to be done and hearts to be touched. On Saturday, June 13, the church took their youth to brighten the day of 12 young children at the Bridge of Hope Children's Home in Vanndale, Ark.
Martha Watts, director of Bridge of Hope, encountered the loss of a grandchild due to drug-related problems with the parents. It was that heartache that made her vow to help children in need as much as she possibly could. In 2005, Watts opened her boy's home.
"The little boys would cry wanting their siblings to be with them, so it was my goal to open a boys and girls home," Watts said. "I think it's important that the siblings stay together."
In March of 2012, Watts bought the old elementary school in Vanndale, AR, from the Cross County School District. She was able to open Bridge of Hope, a boys and girls home. Watts said they take children from Poinsett, Cross, Woodruff and Crittendon Counties.
She added that the home acts as a transitional phase for the children.
"The goal is always for the parents to have that chance to become stable enough to care for the children," she said. "We always want them to be able to go back, but with a different environment. Unfortunately, that's not always the case. It's a blessing when it is, though."
Watts runs Bridge of Hope through her personal expense and donations from the community. She also receives help from the community and churches like Calvary Pentecostal.
"We just heard about it from a friend, and it sounded like a worthy cause to get involved in," said Doris Rains, Calvary coordinator for the Youth in Action trip. "We were all so touched by Martha and how she lovingly cared and encouraged all of the children."
The church helped the home by fixing bicycles, mowing the yard, sorting clothes, donating backpacks for school, providing games for the kids, and just giving their attention to 12 little kids.
"They were amazing children full of love to give," said Nicole Shannon, one of the church's youth members. "Seeing them really makes you think about your life and what you can be thankful for."
The church plans on going back to help Bridge of Hope.
"I really appreciate it when churches and people get together to help with this cause," Watts said. "That saying 'It takes a village to raise a child,' is true. If we don't all work together to help these children, then we will pay for it later on down the road in one way or another. It's not their fault they were dealt these circumstances."