Sheriff's department holds active shooter training
Sunday, July 28, 2013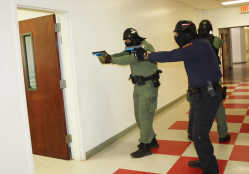 The Poinsett County Sheriff's Department held an active shooter training for local police on Tuesday and Wednesday, July 16-17. The training was held at Weiner High School.
Chief Deputy Sheriff Kevin Molder with the Poinsett County Sheriff's Department taught the class. He is a certified instructor, with a background in teaching at the Law Enforcement Training Academy. He said all Poinsett County departments were invited with the hopes of furthering everyone's education on the matter. The Tyronza Police Department and officers from the Sheriff's office participated.
The training was one of many that Molder plans to schedule. He said many departments could not attend because of various circumstances.
"The more trainings we have, the more people we can serve," Molder said. "The key is to have all of the law enforcement on the same page in the case of an active shooter."
On Tuesday, the officers spent their time in a classroom-like setting learning about the facts and statistics of active shooter situations. Police response to active shooters has changed drastically within a 15-year period. In the past, officers established a perimeter around a building with an active shooter present without gaining entry. Officers now immediately gain entrance into the building to ensure safety of civilians.
On Wednesday, the trainees had the opportunity to put their knowledge into action with the use of Weiner High School. In order to make the situation as real as possible, they used a replica of a 9-mm gun that shot paint pellets for officers and the active shooter.
"It feels as realistic as it can get with the adrenaline rush and everything," Chief Tony Turner of the Tyronza Police Department said. "You also catch yourself thinking as an officer just on the street, and it helps to refresh your memory on the steps you take in those situations."
Molder was thankful for the opportunity to use Weiner High School for Wednesday's demonstration. Officers were given various scenarios of active shooters to react to within a school-setting. In the future, he hopes to hold the class in various places for the trainees to have experience anywhere an active shooter may occur. He wants every officer in Poinsett County to eventually go through the training.
"Of course, we never want to have to deal with an active shooter, but we need to know that our officers are prepared for a situation in which we do have one," Molder said. "We want the community to know we take this seriously, and we are passionate about learning. We are working towards making sure everyone is trained and we are prepared."