Marked Tree Firefighter loves community
Monday, July 29, 2013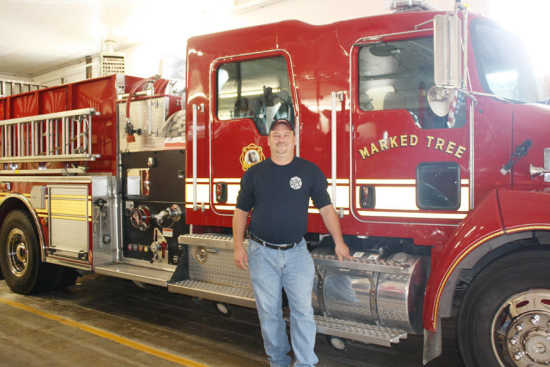 Allen Hicks, Assistant Chief with the Marked Tree Fire Department, has served the community since 1997. Before he began his service with the town, he was a fireman with the Keiser Fire Department. He began his work there at the young age of 14.
Following in his grandfather's and father's footsteps, he started out as a Jr. Fireman. At the time, Hicks said he thought the job was all about the excitement of the lights and sirens. He soon realized the job had nothing to do with lights and noise, and focused on the reality of the life or death situation when dealing with fire.
"The hardest thing about the job is dealing with kids," Hicks said.
He recently encountered a situation in which a child was involved that has left its mark with him.
"It's toughest to see them hurt or injured, because they are so helpless," Hicks said. "But someone has to do it. I try not to let the hardships interfere with what I need to do."
He said the Marked Tree Fire Department can sometimes go a month without a call, but they sometimes get several within a two-day period. Marked Tree has the biggest fire district in the county, serving a large radius around the town.
Many of the firemen, including Hicks, are certified first responders. Hicks said they are able to respond to emergency calls when the Marked Tree ambulance are unable or responding to other calls out of town. Along with being a certified responder, Hicks is certified in CPR training.
His advice to younger firemen is to never let the bad things about the job get to them and always watch their surroundings.
"We have some great ones with our department. I couldn't ask for a better group," Hicks said. "They all know to respect the fire, but not be scared of it."
Hicks is a volunteer firefighter with a full-time job at Crop Production Services in Marked Tree as a Fertilizer Manager. He also works part-time for the Marked Tree Police Department.
"This community is just great to work for. From my job at CPS to my job as a fireman, I love everything about being able to work for this community," Hicks said.
Marked Tree residents, businesses and farmers have been generous to fire department activities in the past, he added. He thanked his community for the work they have done for the department.
Although he loves serving his community, Hicks favorite thing is coming home and spending time with his wife, Misty, and their 8 year old son, Brayden Hicks.