Carter commits to Arkansas
Thursday, August 1, 2013
Peyton Carter of Marked Tree has wanted to be a Lady Razorback for as long as she can remember. While in California playing softball with her travel team, she got that chance.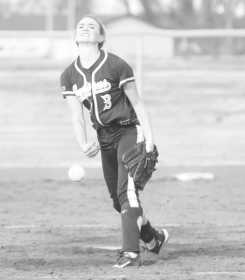 Lady Razorback coach Mike Larabee called Carter and after speaking for a few minutes, Larabee offered Carter the scholarship. "I was very surprised that coach Larabee wanted to talk to me, he said they had been following me for awhile," Carter said. Carter added, "I was very excited when he offered, I've always wanted to play at the next level and to be a Razorback."
Carter, who will be a junior this fall, has two solid seasons. A two-time all-conference and all-state performer, Carter batted .404 and drove in 37 runs her freshman year while going 30-9 on the mound with a 1.22 ERA and 352 strikeouts. Carter came back her sophomore year and batted an outstanding
.663 with 45 RBIs. On the mound she went 24-6 with 299 strikeouts and a 0.56 ERA.
Asked if this takes the pressure off already having college took care of, Carter said, "Most definitely, but I still want to improve."
Carter added, "WOOOOO PIG SOOOOIEEEE!!!."