Cyberbullying workshop held at Parent Center
Friday, August 2, 2013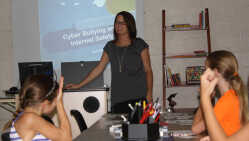 The Trumann School District Parent Center held a Cyberbullying and Internet Safety Workshop on Wednesday, July 24, for fifth through eighth grade students. Library Media Specialist Renee Brown and District Technology Coordinator Justin Smith were the speakers for the event.
With the New Tech program, the Trumann School District handed out about 1,800 devices to students K-12. Brown said they chose this age group to appeal to because students in fifth grade are allowed to take their device home from school for the first time. About 10 students participated in the workshop.
"Cyberbullying takes place 24 hours a day, 7 days a week," Brown said. "It's not worse than physical or emotional bullying, but it's a lot easier."
The definition of cyberbullying is bullying online through electronic devices. She added it's easier because people are able to hide behind the medium used, and it is usually done with a wide audience.
Brown surveyed the room to find out how many children had certain technology devices of their own such as cellphones, computer access or ipads. She then surveyed the room to see how many students had some type of social media account such as Facebook, Instagram, Twitter or Vine. A majority of the students rose their hands for both questions.
According to Brown, about one million people are bullied on Facebook each year. The most common medium for the behavior is cellphones. Whether it's through social media or cellphones, only 1 in 10 victims will inform a parent or trusted adult.
"The most important thing to remember if you are a friend is ever cyberbullied is to not give them a response and to print or save whatever was said," Brown told the students.
Other suggestions she made included blocking the bully and telling a trusted adult about the situation. She also asked the students to watch for signs of their friends or classmates going through cyberbullying.
Smith pointed out some internet safety precautions for parents and students, which included not giving out addresses or phone numbers, not posting one's location and only adding or following familiar people. Smith stressed the importance of not revealing any personal information on social media websites.
"Technology is changing rapidly everyday," Smith said. "As we grow and the internet grows, you need to be more and more aware of what you're putting out there."
Reports of cyberbullying can be made to cybertipline.com or by calling the local police department.