County Fair to come in August
Saturday, August 3, 2013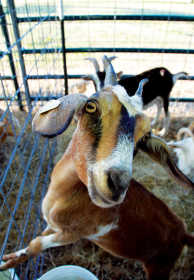 The Poinsett County Fair will begin at 6:00 p.m. at the fair grounds in Harrisburg on Tuesday, Aug. 13, and last until Saturday, Aug. 17.
The fair began in the 1880's with horse races as the main attraction. Around 1900, the fair grew to showcase the best livestock, craft, crop or vegetable in the county along with Carnival rides and a pageant. Since then, the fair has been a continuous annual gathering of all ages and interests with the exception of being suspended three years during World War II.
"The best thing about our fair is we have a free gate, free parking and free entertainment," said Steve Jernigan, Fair Board President since 1978. "Only three counties in Arkansas are like that."
Jernigan said the fair had a good turn out last year, with a full crowd every night. The exhibit building this year will have arts, crafts, ceramics, quilts, baked goods, canned goods, vegetables and much more to be judged. With a new barn built on the grounds, Jernigan hopes to see several hundred livestock animals entered into the competitions, as well. He mentioned all judges in the competitions are from outside of the county.
The fair will include an 18-ride carnival. Armband night will be every night, costing $15. There will also be musical entertainment every night.
"I hope to see a lot of people come on out and support our fair association and our county," Jernigan said.