Lions hear about breast health from St. Bernards
Sunday, August 4, 2013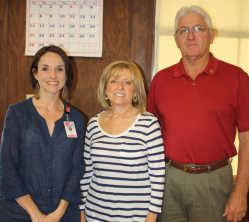 The Trumann Lions Club speaker last week was Marti Whitehead, nurse educator for the Women's Health Unit at St. Bernards Hospital. Whitehead has been with the imaging center for 10 years.
"As far as what can you do, you can't prevent breast cancer," Whitehead said. "The main thing is you have to know your risk. You have to get screened, know what is normal for you and make healthy lifestyle choices as much as you can."
Whitehead added everyone is at risk for the disease, with some controllable and uncontrollable factors. Some risk factors mentioned were age, gender, giving birth for the first time after 30 years of age, strong family history of breast cancer and consuming more than one alcoholic drink per day. Whitehead stressed the importance of knowing family's cancer history, because genetics plays a big role in breast cancer risks.
The second most important think for men and women to keep in mind with breast health is to get screened at the recommended times. Whitehead said the mammogram is the best screening tool in regards to detecting breast cancer. The recommended age for women to begin getting mammograms is 20 years of age. She said a woman should go for an exam every three years, until the age of 40. At 40 years old, they should go every year.
Whitehead explained the imaging services offered at St. Bernards for men and women including digital mammography, ultrasound, breast MRI, heredity/genetic assessment and testing, breast biopsy, Breast Care Navigator Program and the Women's Resource Library. St. Bernards has been the only center in the state of Arkansas awarded the Breast Imaging Center of Excellence.
"Women diagnosed or treated at St. Bernards has a team of many specialists that all work together for the best interest of the patient," Whitehead said.
With the St. Bernards Women Mobile Health Unit, they are able to cover 17 counties in the area providing about 1,500 screening mammograms last year to women insured and uninsured.
"The most important aspect of breast health is knowing what is normal for one's own body," Whitehead said.
The Lions also heard an update from President Ronnie Harrison on the Celebrity Waiter Dinner recently held by the Trumann Fine Arts Council. The dinner was held as a fundraiser for the restoration of the Maxi. A total of $2,000 has been raised for the restoration fund. The council has also received donated curtains.