Trumann Rotary Club looking to grow
Monday, August 5, 2013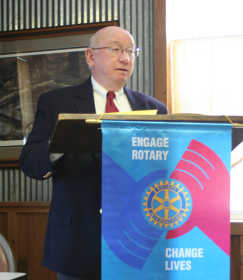 The Trumann Rotary Club was started on May 24, 1984. Since then, the club has been involved in numerous projects from awarding annual scholarships to participating in Heifer International. The club is looking to gain some members this year to better serve the community.
According to Rotary District Governor Charles Elliott, who visited with the Trumann club recently, all but three counties in his district lost population in the last census, and with shrinking populations local Rotary Clubs have struggled with membership.
"I hope we can get some more members," Elliott said. "It's a struggle. A lot of communities in the Delta are shrinking."
Elliott said there are 41 clubs in District 6150 with 2,100 members, but those clubs have lost around 200 members in the past two years.
Rotary International is a service organization which brings together business and professional leaders to provide humanitarian services--both on a local and international level--encourage high ethical standards in all vocations and help build goodwill and peace in the world. Members meet once a week for lunch to listen to guest speakers and discuss upcoming service projects.
Among those projects, Rotary has partnered with the World Health Organization and the Bill and Melinda Gates Foundation to work toward eradicating polio worldwide through vaccination. Elliott gave an update on the polio vaccination program. Polio remains endemic in Afghanistan, Nigeria, and Pakistan, though Elliott noted in the past few months only Pakistan and seen new cases of polio diagnosed. In addition to those three cases, Elliott said there have been 21 new cases in countries in the Horn of Africa.
Rotary's motto is "Service above Self." The theme for the Rotary 2013-14 year is "Engage Rotary, Change Lives."
"Most of the time we don't have to risk our lives, we just have to be willing to serve others," Elliott said. "Rotary is not a Christian organization, but I think a thread of Christianity runs through Rotary. Whatever your motivation, something makes us want to do good for others."
Anyone interested in joining the Trumann Rotary Club may call club president Scott Richards at 870-483-7561.