Whitton Farms plans business for Tyronza
Saturday, August 10, 2013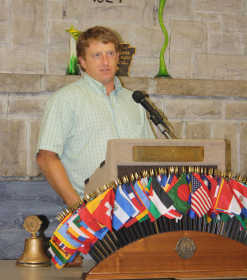 Keith Forrester, owner of Whitton Farms, was the speaker for the Lions Club last week. Forrester has two businesses in Memphis, Tenn., including the Trolley Stop Market and the Whitton Farms Cannery along with running his own farm. He explained to Lions that his next big project is to open a restaurant in Tyronza called Tyboogie's.
"We think we have a lot to offer the town and it has a lot to offer us," Forrester said. "We are very excited about our future there."
As of right now, the restaurant is set to open in February 2014. Forrester said it will be a cafeteria-style restaurant with customers self-serving. Tyboogie's will only be serving lunch.
Forrester owns the Trolley Stop Market in Memphis, Tenn., which serves a variety of plate lunches, pizza and fresh produce. Breakfast, lunch and dinner are served at the market. He also has a small space for people to sell their homemade or homegrown products.
"We really enjoy providing opportunities for others to get started and get their product out there," Forrester said.
In addition to showcasing products for others in their own restaurant, the Forresters also have Whitton Farms Cannery in Memphis, Tenn. The cannery is a commercial kitchen, stocked with commercial cooking equipment and prepping stations. Forrester explained it is used by people wanting to make homemade goods to sell.
"It's been beneficial to a lot of other people," he said. "We've had several success stories."
Much like the businesses Forrester tries to help out, his own Whitton Farms started out small. Both Forrester and his wife were teachers, without any plans to sell anything. Shortly after beginning their careers, they began growing flowers, fruits and vegetables on their own land and selling them at a local Farmer's Market.
At the Farmer's Market, the Forresters gained a strong clientele and decided to begin on their next project--the market.
Many of the Lions were excited to hear about the new business plan for Tyronza. The Lions also heard from Barbara Lewallen with the dates for the Wild Duck Festival Golf Tournament. The tournament is set for Saturday, August 17. It will be a three-man scramble.